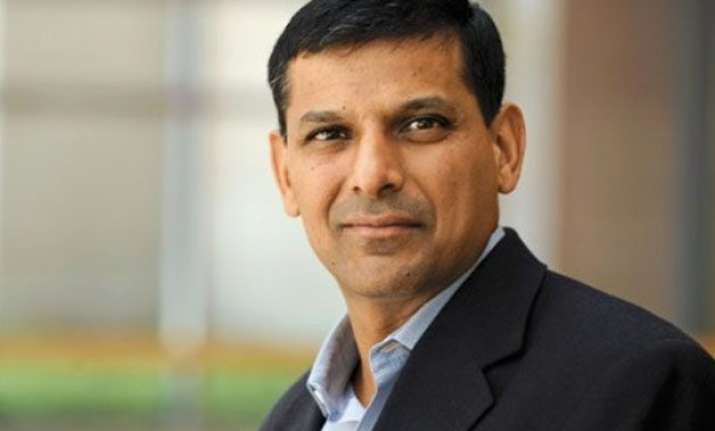 Mumbai: The second unscheduled cut on Wednesday - within two months - in the repo rate at which the Reserve Bank of India (RBI) lends to commercial banks was not as unexpected as the first in January.
Indeed, it could even be called expected after the weekend's historic announcement by Finance Minister Arun Jaitley in his first full budget speech to the Lok Sabha of the government signing the Monetary Policy Framework Agreement with the RBI for controlling inflation.
The agreement will become a law that will provide for a monetary policy committee, Jaitley said.
Signed last month, the agreement is to "primarily maintain price stability while keeping in mind the objective of growth." It says the RBI will aim to bring retail inflation below six percent by January 2016 and to around four percent by fiscal 2016-17.
Perhaps RBI Governor Raghuram Rajan was being enigmatic in keeping with his "rockstar" image in deflecting spotters of Wednesday's rate cut off his trail, when he said on Monday that though central banks everywhere are reducing interest rates to very low levels, the RBI is unable to do so quickly owing to "high inflation".
"A lot of that money is coming to us. We have got an avalanche of capital inflows. Our problem is we also have high inflation, we cannot cut interest rates very quickly to the bone in order to tell those countries - don't come here expecting high interest rates," Rajan told a group of students here.
The consumer price index (CPI)-based inflation rose to 5.11 percent in January from 4.28 percent last December.
Indeed, the impression that Rajan's statement Monday was deflecting attention from Wednesday's cut by 25 basis points is strengthened by the text of the RBI release which said that "given low capacity utilization" and still-weak indicators of production and credit off-take, it is appropriate for RBI to be pre-emptive in its policy action to utilize the available space for monetary accommodation".
If anything, Jaitley, in his landmark budget, had provided the RBI governor some reason not to cut interest rates by extending the target deadline for controlling fiscal deficit to three percent, reasoning that insistence on a timetable to contain the deficit would harm growth prospects.
The targets for the next three years have been set at 3.9 percent for 2015-16, 3.5 percent for 2016-17, and 3.0 percent for 2017-18.
Rajan, who in announcing the rate cut in January had stated that "the key to further easing are data that confirm continuing disinflationary pressures and sustained high quality fiscal consolidation", said on Wednesday after reducing the rate to 7.5 percent that "the fiscal consolidation programme, while delayed, may compensate in quality, especially if state governments are cooperative".
According to data released this week, the fiscal deficit exceed the budget estimate within the first 10 months of the current fiscal (April-January), crossing 107 percent at Rs.568,000 crore.
It is here that the 2015-16 budget comes as a quasi-revolutionary measure in India's economic history, signalling the shift in budgetary philosophy on subsidies from a rights-based to a reformist one following changes made in their modes of disbursement.
This occurs under the head of "Good Governance" in Jaitley's budget speech, which sets out the changes being brought about through the cashless transfer of subsidy through the direct benefit transfer system.
India was now ready to "take off" and "fly", Jaitley said, its engines finding extra thrust from falling oil prices, but he as finance minister was being held in check by low tax buoyancy where the tax to GDP ratio is a measly 10 percent.
Jaitley Saturday proposed to cut the corporate tax rate by five percent to 25 percent over the next four years while increasing the service plus education cess from 12.36 percent to a consolidated 14 percent.
The indirect tax proposals would net Rs.23,383 crore while the direct tax proposals would see Rs.8,315 crore revenue forgone.
Even as he announced a range of social security schemes there were heavy cuts in social sectors ranging from agriculture, drinking water and sanitation, panchayat raj, water resources to the ministry of women and child development to the tone of Rs.439,192.25 crore, in order to keep to the fiscal deficit target. There is also a reduction in allocation to schemes for scheduled castes and scheduled tribes.
Jaitley has attempted to realize multiple goals like higher growth, increase in investment and wider social safety nets in line with his philosophy about reforms in India being the art of the possible and not about a few "big bang" ideas.
"In a country where 30 percent of people are living below the poverty line, your reforms cannot be one that you simply confront public opinion, or the sectors that you simply find a huge amount of reluctance for reformation," Jaitley said last year at the World Economic Forum's India Economic Summit here.
If the Goods and Services Tax is implemented from the start of the 2016-17 fiscal to usher in a common market, Jaitley, who learnt his economics in Delhi University, would be bringing to fruition the dreams of the nationalist bourgeoisie which sustained Mahatma Gandhi in his struggle against the British Empire.