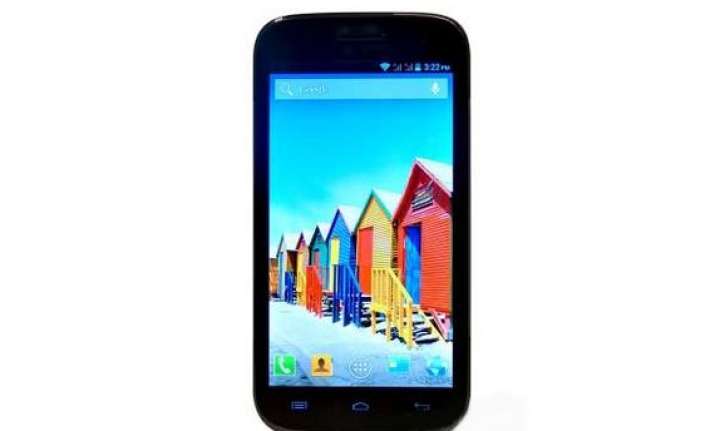 New Delhi, Feb 22: Looking at the features it is offering, it is hard to imagine this is a Micromax handset. The Micromax Canvas A116 is the first quad core processor phone to be announced under Rs 15,000. The handset comes with Android Jelly Bean operating system, 1 GB RAM, 8 megapixel rear camera, some of the most desired features in a smartphone.  The A116 costs Rs 13,990 and looks fabulous in first look. Here's a review:
Display
The Micromax Canvas A116 comes with a 5 inch screen with 1280 x 720 pixel resolution. Not many smartphones under Rs 14,000 come with high definition displays, so hats off to Micromax. Also, the screen is an IPS panel; making it perhaps one of the few handsets in the sub-Rs 15,000 segment to have it.
Thanks to the HD resolution, pictures and videos look great on the phone. The IPS panel also creates a great viewing angle. Touch response of Micromax Canvas A116 is also great.
Performance
The Micromax Canvas HD A116 comes with a quad core processor with 1.2 GHz clockspeed. To aid the processor, there is 1 GB RAM and Android Jelly Bean operating system as well.
The combination is simply awesome and Canvas A116 is perhaps the first to have it in this price segment. Thanks to the quad core processor and 1 GB RAM, games run with the smoothness that I have found only in handsets above Rs 25,000. It is also unbelievable to see 1 GB RAM in a budget smartphone, which acts as per expectations. There were a few games that I used to think can be played only in high end devices, but believe me you can play graphics intensive games like Shadowgun Dead Zone and Blood and Glory etc on this device as well.
Micromax not only deserves a pat in the back for installing Jelly Bean operating system, but it has also provided the latest Android 4.1.2 operating system version, which is currently available for only a few smartphones. In fact, on the AnTuTu benchmark, Canvas A116 scored 12630, which is even more than Samsung Galaxy Note's 10290 points.
Camera
Canvas HD A116 has an 8 megapixel rear camera with LED flash while in the front rests a 2 megapixel camera. The auto focus rear camera can capture high definition videos as well. However, the camera is not something to boast about. Like many budget phones, the camera's auto focus is way out of sync.
There seems to be a bug in the camera app as well that prevents it from opening many a times. We do not mean that the camera is useless though. The 8 megapixel camera comes with a nice user interface and is able to capture images as well.
Battery
The Canvas HD A116 comes with a 2000 mAh battery, which Micromax says provides five hours of talktime and 174 hours of standby time. We did not find any deviation from the claimed talktime either. For instance, it lost 40 per cent of its charge from 85 per cent to 45 per cent, during which we played games on the phone for around 45 minutes and used the remaining time for watching videos on YouTube.
Of course, even the claimed talktime is not that much but considering that the device has a quad core processor, you should not be asking for 10 hours of talktime.
Other highlights
Canvas A116 has 1.77 GB of internal memory. Also, one can add up to 32 GB on a micro SD card. The phone has all the sensors like proximity sensor, motion sensor, gravity sensor and light sensor. And more importantly, all the sensors work well.
Connectivity wise also, the Canvas A116 is quite rich. It has the advanced Bluetooth 4.0 as well as USB 2.0. Besides, it has WiFi, GPS, a 3.5 mm jack etc.
Conclusion
Micromax Canvas HD A116 is a really attractive handset, both feature wise as well as in terms of performance. I have not enjoyed my games and videos any more on a smartphone that costs less than Rs 15,000 as I did on this handset.
Of course, it is foolish to compare the Canvas HD A116 with high end phones like the HTC One X or Samsung Galaxy SIII. But considering its price and performance, I would recommend it to anyone who can spend Rs 14,000 on an Android smartphone.