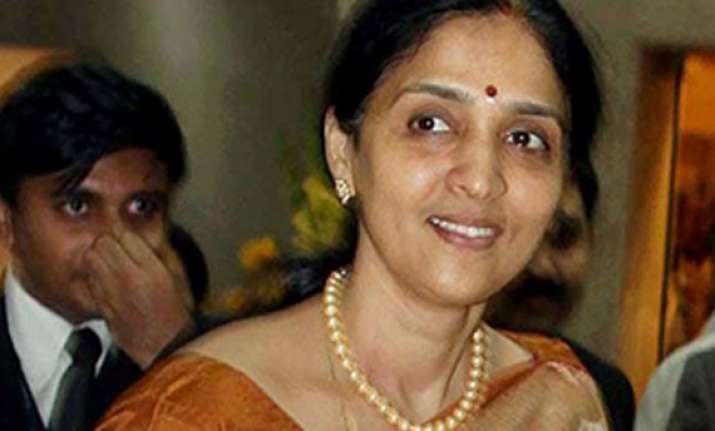 New Delhi, Nov 28: With her elevation as CEO and Managing Director of leading Indian bourse NSE, Chitra Ramakrishna will join the select league of women executives in the world who head stock exchanges.
Only two of the top 20 bourses globally have women CEOs, while Ramakrishna, currently joint MD of the National Stock Exchange (NSE), will assume the role of its Chief from April 1, 2013 for a period of five years.
Among the top-20 bourses in terms of market value of listed companies, South Africa's Johannesburg Stock Exchange and China's Shenzhen Stock Exchange are headed by Nicky Newton-King and Liping Song respectively.
NSE, with a market value of $ 1,178 billion, is ranked 12th in the World as of October 2012, as per the latest data of the World Federation of Exchanges (WFE).
The 11 exchanges having higher market capitalisation than NSE include NYSE Euronext (US), Nasdaq, London Stock Exchange Group, NYSE Euronext (Europe), Hong Kong Exchanges, China's Shanghai SE, Canada's TMX Group, Germany's Deutsche Boerse, Australian Stock Exchange and India's BSE. However, none of these bourses have women Chiefs.
While Shenzhen SE is placed on the 16th spot, Johannesburg SE ranks 19th in terms of market capitalisation.
Within the Asia Pacific region as well, only two bourses currently have female Chiefs — China's Shenzen Stock Exchange and Sri Lanka's Colombo Stock Exchange (headed by Surekha Sellahewa).
Among the 59 exchanges that are members of WFE, a total of seven bourses have women Chief Executives, but most of them are relatively smaller ones. These include the Irish Stock Exchange (Ireland), Oslo bors (Norway), Tel-Aviv Stock Exchange (Israel), Malta Stock Exchange (Malta) and Weiner borse (Vienna).
Ravi Narain, the present MD and CEO of NSE, will become non-executive Vice-Chairman of the exchange from April.
However, Narain would continue to serve on the WFE board and as Chairman of its Working Committee.