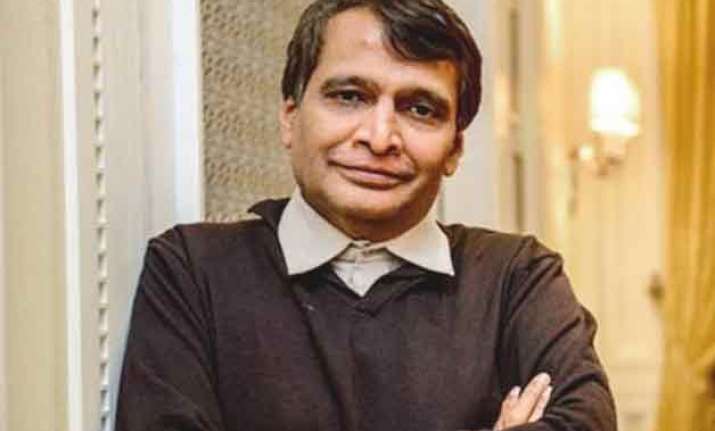 New Delhi: This time there may not be any increase in the passenger fares as the Railway Minister Suresh Prabhu gets ready to present the Rail budget on Thursday.
According to a report published in Economic Times, it is likely that instead of increasing passanger fares,  Prabhu may rely on main Budget, joint ventures with the private sector and finances from the other countries for support.
The Rail Minister is believed to have taken good time to decide whether to increase the fares or not. The final touches to the Rail budget 2015-16 were given by him on Monday.
An official on condition of anonymity and involved with the budget-making process told ET, "An across-the-board hike is unlikely since passenger growth has been negative and even freight has not grown as per expectation."
However, he added that "minor adjustments" could be expected in the fares of Tatkal and premium special trains which run on dynamic pricing system.
On Tuesday, the budget document was sent for printing. Prabhu has worked through the last weekend also to balance populism with much-needed reforms that are expected from him.
It is believed that Prabhu was personally in favor of a fare hike to generate much-needed resources; however, the senior railway officials convinced him that it would be difficult to justify the move as the fares have been hiked steeply last year only.
The fares were hiked by 14.2% for passengers and 6.5% in freight last year in June.
However,  it is learnt that this time, given the falling prices of diesel it would be difficult to convince the hike in fuel bill of railways. In case, it became altogether unavoidable, then the officials told that fares could be increased anytime during the year and attributed to the Fuel Adjustment Component as Prabhu is known to be facing tough challenge of raising resources to fund critical infrastructure projects.
The ministry is likely to seek a Gross Budgetary Support of Rs 50,000 crore apart from another 70,000 crore from joint ventures and Public Private Partnership (PPP). He will also seek bilateral financing and technological support from countries like China, Japan and France all of which are major suppliers and have shown keen interest in the expansion of Indian Railways.
The ministry sources also told ET that Prabhu can resort to bilateral cooperation with interested nations to take up specific initiatives such as upgradation of network, safety-related infrastructure, dedicated freight corridors and high-speed trains. 
The report further quotes  an official of the Railway Board who said that no major organizational reforms are expected from the budget this time, although, small incremental steps are expected.
Prabhu's immediate focus will be to finish existing projects rather announce new big-ticket schemes. He needs at least Rs 1.8 lakh crore just to complete 359 pending rail projects. He is also likely to announce a slew of green initiatives, notably the use of solar energy, CNG, setting up of water recycling plants and waste-to-energy projects.