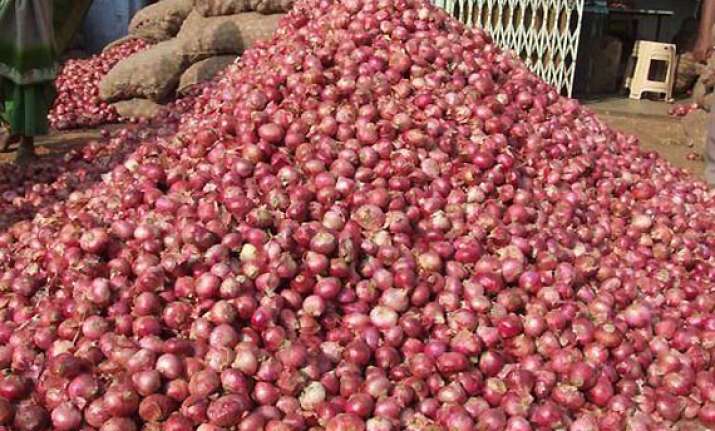 New Delhi: Onion prices continued to rule at a record Rs 100 per kg in parts of the country for the second day today as a hapless government waited for increased supply of new crops to reach the markets and stabilise rates.
Union Agriculture Minister Sharad Pawar today again termed the crisis "temporary," even though onion prices have been rising since August.
However, poll-bound Delhi Chief Minister Sheila Dikshit said the situation was "very serious" and indicated her government will step in to try and rein in the situation.
With Delhi having a history of incumbent governments losing elections when onion rates are abnormally high, Dikshit petitioned Pawar and Food Minister K V Thomas for urgent steps to boost supplies and control rates.
Reports from Delhi, Mumbai, Patna and Chandigarh said the staple commodity was ruling between Rs 90-100 per kg, while in most other cities, onions were sold at Rs 70-80 per kg.
According to data compiled by the Consumer Affairs Ministry of 57 major cities, average onion prices rose by Rs 5 a kg today to Rs 75. The highest price was Rs 90 per kg in Jammu.
Pawar said onion prices are expected to cool down in the next 2-3 weeks with increased arrival of new crops from Maharashtra, Karnataka and Rajasthan.
"Onion shortage is a temporary situation. Heavy rain has affected crops in Karnataka and Maharashtra. Total area under the crop is higher than last year. No drop in production is expected," Pawar told reporters.
"Production is good. The question is when the crop will come in a big way to the markets," he said.
Commerce Minister Anand Sharma said there is no "real" scarcity of onions and prices are expected to stabilise in the coming few weeks. He blamed hoarding and crop losses for the high price, not exports.
Dikshit said her government will approach the Election Commission to restart the sale of onions through mobile outlets and vans of the state government in the city, which goes to the polls on December 4. A team has been sent to Maharashtra to get more supplies.
C Rangarajan, Chairman of the Prime Minister's Economic Advisory Council, attributed the high onion prices to supply constraints and said it will have a temporary impact on inflation.
"In case of onion and vegetables, it is the supply factor which has been responsible for the push-up in prices. We need to take action on the supply side, increase availability and see that market mechanisms are improved and availability or existing supply is evenly distributed to consumers," he said.
On reasons for the sharp spike in retail prices, Pawar said: "In Nashik, farmers are getting Rs 45 per kg. I don't
understand why it should sell at Rs 90 per kg here. Government does not control onions and does not sell onions. Prices are determined by the market."
He expressed concern about a possible glut of onions in the coming weeks, leading to a price crash.  "I am worried that farmers in the next 1-2 months will complain about price crash."
Pawar noted that exports cannot be blamed for the price rise as shipments are unviable because traders are getting better prices in the domestic market.  The global price of onion is about USD 500-550 a tonne, while the domestic rate is at USD 850 a tonne.
Asked about declaring onions as an essential commodity, Pawar said: "There should not be any restrictions. There should be a free market for selling onions."
Food Minister Thomas said prices would not have risen so much had cooperative major Nafed been allowed to stock onions and release them in the open market when required.
According to the status report prepared by the Consumer Affairs Ministry, less onions were stored in the 2012-13 crop year (July-June) due to a 5 per cent fall in production to 16.6 million tonnes and higher exports at 1.82 million tonnes.
The onion crisis has flared up as only 30,000-40,000 tonnes of stored onions were available for domestic consumption, while arrivals of fresh crops has been delayed due to heavy rains in growing states such as Maharashtra, it said.
"The reason for recent rise in onion prices may be due to extended rain in Rajasthan, Madhya Pradesh and Gujarat, which reduced the market arrival. The increased demand due to festive season has further added to price rise," the report said.