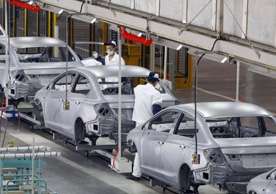 New Delhi, July 29: New investments in the country's manufacturing sector are virtually on hold, with half of the companies indicating that they have no plans for major investments in the fiscal year 2013-14, says a survey.
According to a survey jointly conducted by PwC and Ficci titled - "India Manufacturing Barometer", sluggish economic growth and deceleration in production have made manufacturing companies tread cautiously.
"In an environment of sluggish economic growth, it is not surprising that the mood exhibited by companies is cautious," PwC India Leader Industrial Products Bimal Tanna said.
The manufacturing sector, however, is using this period to realign the business models and prepare for the future, he added.
The survey said that companies appear confident about their own prospects for growth and expect profit margins to improve over the next 12 months.
Companies believe that the market may have bottomed out and more than 50 per cent largely expect their own revenues to grow at higher than 10 per cent over the next year and profit margins to inch up.
Of the companies surveyed by the survey, 73 per cent believe that customer requirements and expectations have changed due to the global economic environment as well as the domestic slowdown.
Around 42 per cent are planning service additions to their products in order to respond to frequently shifting and disparate customer preferences, while, 76 per cent surveyed companies stated that they are resorting to cost efficiencies to meet customer requirements.
The survey finds that the major growth barriers expected are higher interest rates, lack of domestic demand and other concerns like pressure for increased wages, legislative or regulatory pressures, decreasing profitability and increased competition from foreign markets.
As slow demand has resulted in lower sales, finished inventories have gone up for 43 per cent of companies surveyed. Also, the gross margins of half of the respondents have declined over the last six months.
The India Manufacturing Barometer has covered senior executives from a sample of manufacturing industry sectors which are auto ancillary, building and construction materials, capital goods, chemicals, engineering and metals.