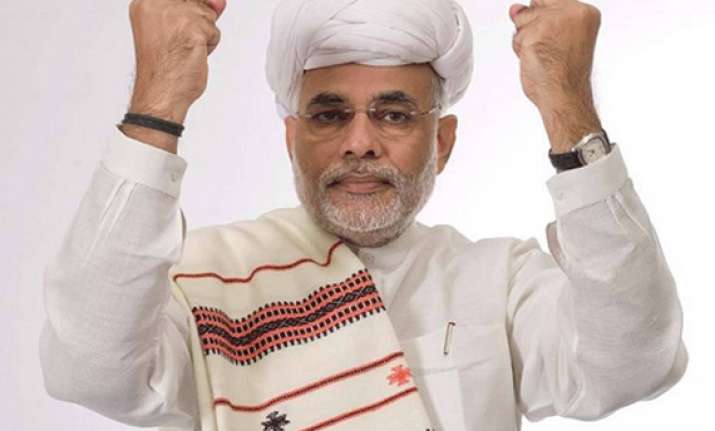 New Delhi, June 9: Putting an end to national speculation, Bharatiya Janata Party (BJP) President Rajnath Singh on Sunday announced Narendra Modi as the Chairman of the party's Campaign Committee for 2014 general elections.
Modi was recently appointed a member of the party's parliamentary board.
Rajnath Singh told BJP cadres, "We are the only alternative, will bring about change." "From corruption to misgovernance, this country has been let down by the government," he added.
Earlier in the day, speaking to BJP cadres at Goa, Narendra Modi said, "We need the country free from Congress rule. Nation has never seen such brazenness and people are angry with Congress."
"People still believe institutions and remember the work of Atal Bihari Vajpayee even today with confidence," said Modi.
Modi took a jibe at UPA's Bharat Nirman campaign stating that instead of 'Aapka hak',it is a case of 'Aapka shak', implying that the citizens of the country are suspicious of the national pitch by Congress.
Stating that there is a deficit of trust in the country, Modi went on to say that 'throwing out' Congress is a national not a political campaign.
Reflecting the mood in the party ranks, Goa chief minister Manohar Parrikar said Modi should be the "face of the party" at least six months before the general elections. Even Uma Bharati, seen to be close to Advani, wrote to party chief Rajnath Singh saying she will support any decision the party takes.
BJP spokesperson Shahnawaz Hussain said that the party can not ignore expectations of BJP workers.
Hussain announced that the BJP will hold nationwide protests against the UPA government from June 17 to June 22.