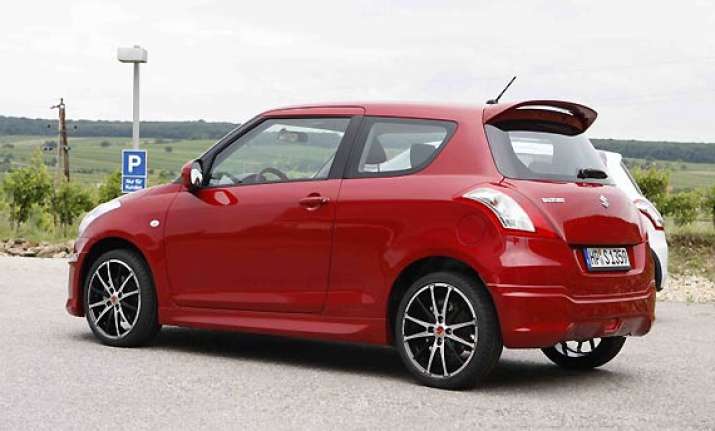 New Delhi, Aug 17: India's largest car-maker Maruti Suzuki India (MSI) today launched the new version of its 'Swift' at an aggressive introductory price starting from Rs 4.22 lakh, as it looks to defend its leadership position in the highly competitive premium compact car segment.

The new Swift is being launched at a time when MSI is facing increased competition from the likes of Hyundai's 'i20', Toyota's 'Liva', Ford's 'Figo', General Motors' 'Beat' and 'U-VA' in the premium hatchback category. Honda's upcoming hatchback 'Brio' is expected further intensify competition.

"We have launched the new 'Swift' at a time when there was a significant demand for the outgoing model. I am confident that the new 'Swift' will create new benchmarks with its improved fuel efficiency, stylish and sportier looks and high performance," Maruti Suzuki India (MSI) Managing Director and CEO Shinzo Nakanishi told reporters here.

Built on an all-new platform, the company and its suppliers have invested over Rs 550 crore on the new car, which will have over 95 per cent of localised components.

The 'Swift' has been a runaway success since its launch in 2005 and has clocked over six lakh units sales so far. MSI is hoping that the new version will further strengthen its position.

"Even before the launch, we have received over 50,000 bookings for the new 'Swift'. We are increasing the production of the car to about 17,000 units in the next few months from 12,000 units currently," Nakanishi said.

The second production unit in Manesar, scheduled to be operational from next month, will start with rolling out of the 'Swift', he added.

With increased production, the waiting period for the car is likely to come down to 2-3 months from 3-4 months earlier.

The 'Swift', one of the first premium hatchbacks in India, has recently been facing tough competition from rivals, but without losing its sheen.

To corner further market share, MSI has aggressively priced the new 'Swift' with the petrol modes being offered at an introductory price of Rs 4.22 lakh-Rs 5.53 lakh. The diesel variant is priced between Rs 5.17 lakh and Rs 6.38 lakh.

The petrol variant is powered by a 1.2-litre K series engine, while the diesel version has a 1.3-litre engine.

The company's earlier 'Swift' was priced between Rs 4.09 lakh and Rs 5.38 lakh across petrol and diesel options.

Hyundai's 'i20' will be the biggest rival of 'Swift'. The petrol and diesel options of the 'i20' is available between Rs 4.59 lakh and Rs 8.16 lakh.

Toyota's recently launched 'Liva', tagged at Rs 3.99 lakh to Rs 5.99 lakh, is also emerging as a strong competitor.

The petrol and diesel variants of General Motors' 'Beat' is available between Rs 3.55 lakh and Rs 5.46 lakh. The 'U-VA' is priced between Rs 4.08 lakh and Rs 5.02 lakh. Ford's 'Figo' is offered at Rs 3.70 lakh-Rs 5.57 lakh range.

All the above prices are according to the respective company's websites and are for ex-showroom, Delhi.

Honda is expected to introduce its small car 'Brio' around the festive season this year and is likely to be priced between Rs 4 lakh and Rs 5 lakh.

MSI had earlier said it expects the sales of the new 'Swift' to be around 18,000 units per month. Sales of the old 'Swift' were around 12,000 units a month.

When asked if the company would also introduce the sedan version of the new 'Swift', Nakanishi said: "We should have a new sedan type of vehicle of this car, but no timeline has been fixed."

Last week, the company had said it has cut production of most of its models, including the best selling Alto, during this month due to slump in demand in the domestic market.

MSI had also said it expected sales growth of low single digit in this fiscal as the Indian automobile market struggles to cope with rising interest rates and high fuel prices.

Commenting on this, MSI Managing Executive Officer (Marketing & Sales) Mayank Pareek said: "We expect the sales to revive during the festive season... The new 'Swift' may help in reviving the sentiment in the market."