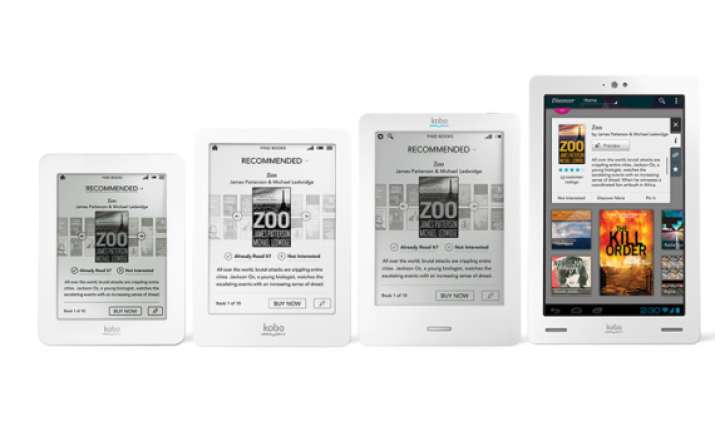 New Delhi: Renowned eReader making company, Kobo has finally launched its products in India. Kobo has tied up with booksellers Crossword, WHSmith and electronics retailer Croma to sell its devices, which will be available in the market starting October 17.
The company has launched four devices: Kobo Touch Kobo Glo, Kobo Arc and Kobo Aura HD in the range of Rs 7,999 to 13,999. All the devices have USB and Wi-Fi connectivity.
As part of Diwali offer, Kobo is offering special Diwali pricing until November 3 on two Kobo devices. Kobo Arc is available at Rs 9999 (regular price Rs 11,999) and Kobo Touch at Rs 6999 (regularly price Rs 7,999).
In addition, users can access Kobo's eBookstore that features nearly 4-million titles across 68 languages. The eBookstore has everything from top-selling Indian authors including Jhumpa Lahiri, Ramachandra Guha and Sachin Garg to international bestselling authors like Dan Brown, John Grisham and Lee Child.
The four devices launched are:
Kobo Touch (MRP Rs. 7, 999)
Kobo Touch eReader comes with an anti-glare 6" Pearl E Ink touchscreen that offers the closest experience to reading print on paper and is easy on the eyes – even in bright sunlight. The thin and lightweight Kobo Touch is highly portable and offers many ways to personalize the reading experience. 
Kobo Glo (MRP Rs. 10,999)
The front-lit Kobo Glo eReader offers the most even and adjustable ComfortLight technology to enable people to read anytime – day or night. Its durable screen and customizable fonts and page-turning features make it the perfect eReader for the most passionate booklovers. The Kobo Glo uses E Ink technology, and its no-glare XGA high-resolution 6" E Ink screen provides an experience that is just like reading print on paper. 
Kobo Arc (MRP Rs. 11, 999)
For Readers who want a full multimedia experience, the Kobo Arc is the perfect Google-certified, 7" Android 4.1.1 (Jelly Bean) multimedia tablet offering great ways to discover content – books, movies, TV shows, music, web pages and more. Tapestries – Kobo's exclusive interface on the Kobo Arc – uses a cross-media engine to recommend related content based on what users 'pin' to their Tapestries. The high-definition display delivers crisp, sharp text and its 16 million color capability brings photos and videos to life. 
KOBO AURA HD (MRP Rs. 13,999)
Kobo Aura HD offers the highest-resolution screen available in an eReader today. At 265 dpi, the spacious 6.8" Pearl E Ink touchscreen offers 30 percent more reading surface and the closest experience to print-on-paper – showcasing text and high-resolution images beautifully. The device's 1GHz processor makes page turns fly and is the fastest eReader on the market – 25 percent faster.