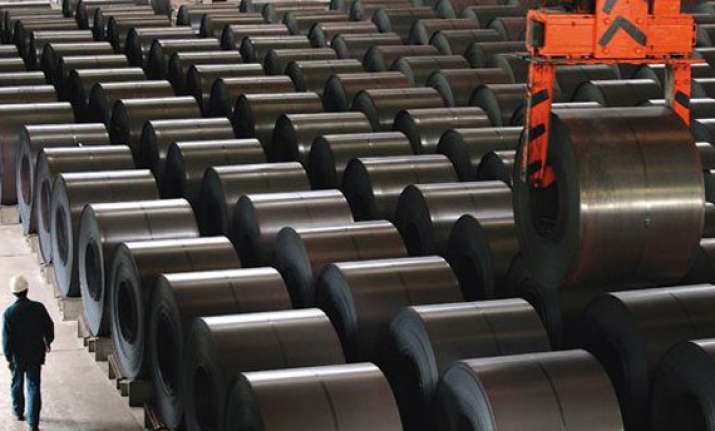 New Delhi, June 30: Jindal Steel and Power plans to commission a 2 million tonnes per annum (MTPA) capacity plant in Oman in October, which the company claims would be the largest steel plant in the Gulf region.
"In Oman, we are commissioning the steel melting shop in October. We have also placed orders for bar and rod mills. Steel melting shop will produce billets and next logical step is to make bar and rods, long products," Jindal Steel and Power (JSPL) Managing Director and CEO Ravi Uppal told PTI in an interview.
He said capacity of the Oman plant, which is the company's first overseas steel venture, will be 2 MTPA and "it is the biggest plant in gulf" region.
The Naveen Jindal-led company had acquired Shadeed Iron and Steel in Oman in May, 2010 from Abu-Dhabi's Al Ghaith Holdings for about USD 500 million.
It is also estimated to have invested another USD 500 million in developing the facilities there, which includes 1.5 MTPA DRI/HBI plant and the upcoming 2 MTPA steel plant. The company has plans to expand it further, depending upon the demand in the region.
According to Uppal, the two years -- ongoing fiscal and 2014-15 -- are going to be turning point in JSPL's history as the company will be more than doubling its steel production and power generation capacities during the period.
While the steel production capacity will go up from existing 3.5 MTPA to 7.5 MTPA, power generation capacity will increase to 5,000 MW from existing 2,500 MW.
Uppal said that steel mills of 2 MTPA capacity each at Odisha's Angul and in Oman will get commissioned by October- November. Besides, all four units of JSPL's upcoming 2,400 MW power plant in Chhattisgarh's Tamnar will get commissioned
between July and March, 2014, while next fiscal year will be used to stabilise the plants.
"2013-14 and 2014-15 are going to be turning years for us because this year we are increasing the steel making capacity from 3.5 MTPA to 7.5 MTPA.
"The power generation capacity is to increase this year from 2,500 MW to 5,000 MW. So it's an orbital jump. All of them would get partially utilised in this financial year and will go into full blossom in 2014-15," he said.
Moreover, the company is investing Rs 2,000 crore on upgradation and modernisation of its existing 3 MTPA steel plant in Chhattisgarh's Raigarh, which will be completed by the end of next fiscal.
Uppal further said that JSPL has reorganised its businesses into four major verticals -- steel and cement, power, mines and minerals and global ventures and is focusing
on its expansion projects one by one.
Accordingly, the company aims to complete the current phase of expansion, upgradation and stabilisation by March, 2015. Then it will go for expanding Angul steel plant's capacity by another 4 MTPA, expansion of Patratu and Raigarh
plants and adding some new power plants.
"We are a more than Rs 20,000-crore company, we are growing double digit and our target is to grow by 2020-21 to Rs 1 lakh crore company," he said, adding that capacity utilisation of all its plants have been nearly 100 per cent.
JSPL is also looking to convert its Mozambique coal mine, which started production nearly three months back and is estimated to hold over a billion tonnes reserves, into its biggest source of coking coal.
The company has so far received two shipments of about 50,000 tonnes each from the mine.