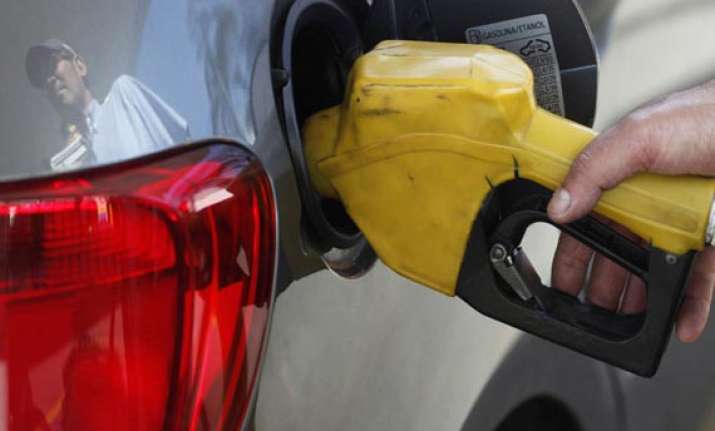 New Delhi: Diesel prices should be hiked by a steep Rs 5 per litre, kerosene by Rs 4 a litre and cooking gas (LPG) rates by Rs 250 per cylinder immediately to cut fuel subsidy bill by Rs 72,000 crore, an expert panel recommended Wednesday.
The panel headed by former Planning Commission member Kirit S Parikh suggested that after the price hike oil companies should be given a fixed subsidy of only Rs 6 per litre on diesel and any difference between cost of production and retail price should be passed on to consumers.
Also, it suggested that the number of subsidised cooking gas cylinders supplied to households in a year should be cut to 6 bottles of 14.2-kg from the current quota of 9.
Accepting panel recommendation in toto on the eve of assembly elections in states like Delhi, Rajasthan and Madhya Pradesh may be difficult with Oil Minister M Veerappa Moily saying that the suggestions needs to be examined throughly before they are implemented.
"I do not want to pass a value judgement on the recommendations. The report has been presented to me just now. There is a process involved (in accepting and implementing such reports). We will decide on it in consultation with the Finance Ministry," he told reporters here.
Parikh, the author of the report, said the Rs 6 per litre subsidy on diesel should be liquidated in one year to make the fuel completely deregulated or free from price controls.
If implemented, the recommendation will reduce fuel subsidy by Rs 30,250 crore during the reminder period of the current fiscal from a projected Rs 138,435 crore.
Oil firms currently sell diesel at a discount of Rs 10.52 a litre, kerosene at Rs 38.32 and LPG at Rs 532.86 per cylinder.
Together, they would result in a revenue loss of Rs 138,435 crore this fiscal. This has to be met through a combination of government cash subsidy and contribution from upstream firms like ONGC.
The expert panel favoured continuation of existing pricing principles for controlled petroleum products despite a dissenting note from the representative of the Finance Ministry on the committee.
The Finance Ministry pushed for refiners being paid the equivalent of rates they would have realised if diesel, kerosene and LPG were exported. The export parity pricing, it felt would cut its subsidy outgo by Rs 13,000 crore.
Parikh said after discounting the quality specification of fuel exported by private refiners, the difference between the EPP and currently practiced trade parity pricing was only Rs 108 per kilolitre or 1.5 percent.
"No country uses export parity pricing... And there is very little difference between export parity pricing and trade parity pricing," he said.
The committee was constituted as Finance Ministry was looking to alter the way diesel and cooking fuels are priced to reduce the subsidy burden.
Currently, diesel is priced at trade parity, of which 80 percent is import price and 20 percent export rate. Kerosene and LPG are priced at import parity.
The Finance Ministry wanted export parity pricing for diesel and kerosene in 2012-13 and wanted LPG to be priced through a 60-40 mix of export and import parity rates.
A shift to export parity pricing would have cut the subsidy on diesel by Rs 14,372 crore to Rs 77,689 crore in 2012-13. Another Rs 2,245 crore would have been saved on LPG and Rs 1,001 crore on kerosene during the period.
The savings would come from the removal of import duty and notional transportation cost in the import parity price.
Parikh said the 2.5 percent is a very nominal duty protection given to refiners which if removed would give no incentive to private refiners to sell products domestically.
It would lead to private refiners exporting their fuel and public sector importing diesel at higher cost, he said.
"It makes sense to give protection to the domestic industry," he said.
The panel also suggested that upstream contribution to making up for fuel subsidy losses should be a maximum of 40 per cent of prices they realise on sale of crude oil if the rates are no more than USd 80 per barrel.
For price realisation of USD 80 to 120, they should pay 40 per cent plus 0.25 per cent for each USD 1 increase beyond USD 80.
For crude oil prices beyond USD 120, they should be asked to pay 50 percent of the price realised.
The Finance Ministry representative, he said, gave a dissenting note on this as well as the ministry wanted upstream contribution to be at 60 percent of the price at USD 120 oil rate.
"The committee has given a rejoinder to the Finance Ministry's dissent note," Parikh said.