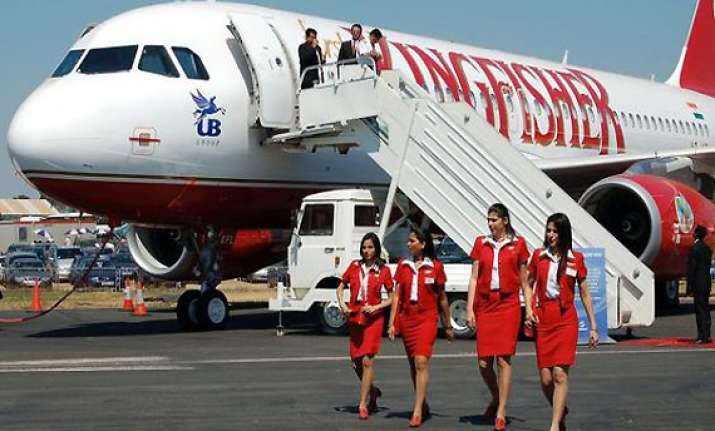 New Delhi, Jan 11: With Kingfisher asking the government to show "sense of urgency" on its plea for direct import of jet fuel, the Commerce Ministry is set to take a decision in the next three-four days without consulting states.

"It would not take more than three to four days....The decision is fairly in advanced stage. The consultation has been completed with the stakeholders," Director General of Foreign Trade (DGFT) Anup K Pujari told reporters after a meeting with Kingfisher promoter Vijay Mallya here.

Pujari said the government is examining three options- to change the policy in entirety removing monopoly of the state enterprises like IOC to import aviation turbine fuel (ATF); to permit only the applicant (Kingfisher) to go in for ATF imports; or to allow such facility to whosoever makes an application.

The troubled Kingfisher has applied for ATF imports, as the move would help its save local taxes, mainly high sales taxes imposed by state governments. Sales tax on jet fuel varies from four per cent in Andhra Pradesh to 40 per cent.

Asked whether the Commerce Ministry has consulted state governments, as they would lose revenue, Pujari said, "We have not...Because we know they will not approve it".

Mallya said the application for direct ATF imports was made in 2008 by Deccan Aviation (which was taken over by Kingfisher).

"I have said to him (DGFT) that with very high international crude prices, there is a sense of urgency. Kindly decide...," he said.

The Kingfisher promoter said his visit to the Commerce Ministry is a "routine follow-up" to the proposal before the government.

Mallya said: "We have made an application.. Like you make an application for anything in a smaller way, you follow up...DGFT said that there is nothing outstanding (issue)."

On the second debt restructuring plans for his airlines e said, soon there would be something to hear.

Kingfisher has an outstanding loan of about Rs 6,419 crore.

During the first phase of restructuring, State Bank of India had an exposure of Rs 1,457 crore, followed by IDBI Bank Rs 727 crore, Punjab National Bank Rs 710 crore, Bank of India Rs 575 crore and BoB Rs 537 crore, in the company.

When asked about the concerns raised by Oil Ministry regarding inadequate infrastructure for ATF import, DGFT said it is up to the airline to sort out the logistic issues.

"...Tomorrow maybe if we do this, it is possible there will be some oil pipeline, maybe willing to make their infrastructure available. It is for Mallya to decide what does he want to do. If he is unable to get this done, he will come to us and say i am not importing."