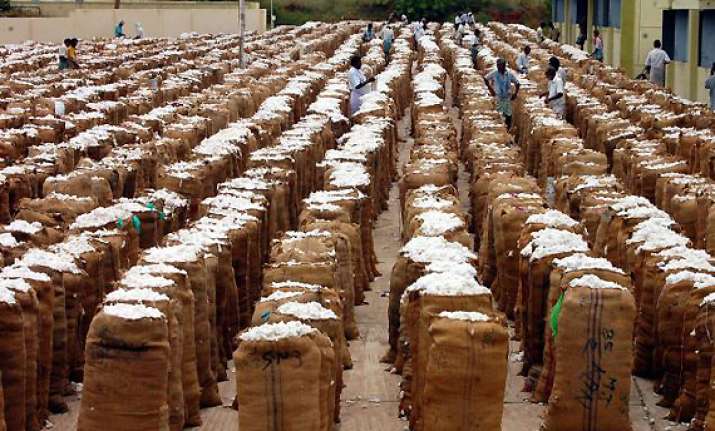 New Delhi, Mar 5: The government today banned exports of cotton to increase supply of the natural fibre in the domestic market.

"Export of cotton has been prohibited till further orders," the Directorate General of Foreign Trade (DGFT) said in a notification.

Exports against registration certificates already issued will not be allowed either, it said.

India has already exported about 85 lakh bales (170 kg each) of cotton in the current marketing year (October-September). It had shipped 66 lakh bales overseas in the 2010-11 marketing year.

The Cotton Advisory Board has projected 355 lakh bales of cotton production in the 2011-12 season.

In August, the government had removed restrictions on the export of the natural fibre and permitted shipments under OGL till September 2011.

Meanwhile, BJP today demanded immediate withdrawal of the government ban on export of cotton, terming the step as "anti-farmer and uncalled" for as prices and domestic demand for the the cash crop have come down this year.

"We demand immediate reversal of the ban on export of cotton as it is an anti-farmer step. Production this year has been 10 per cent more than last year and demand has fallen by 10 per cent due to problems in the textile industry," BJP spokesperson Prakash Javadekar said.

"Price of cotton in the domestic market has fallen making cotton farming unremunerative. Input costs have increased and market price is less than the minimum support price," Javadekar said.

He claimed that under these circumstances, the only window for the farmer to make some profits was export which has now been banned by the government.

Javadekar agreed there is a need for a relief package for the domestic textile industry to bail it out of the slump but insisted this should not be done at the cost of the farmer.

"This ban on cotton export is unacceptable and unjustified. It should be reversed immediately," he said.