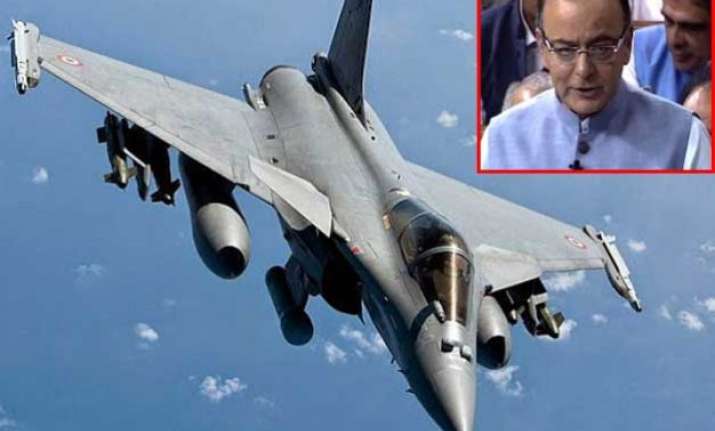 New Delhi: In a surprising move, Finance Minister Arun Jaitley did not mention allocation to defence sector in his budget speech delivered in Lok Sabha on Monday.
 
Skipping 'defence' in budget speech is somewhat unprecedented and even experts could not recall when it was not mentioned in a budget speech last time. All they could say was that it has not happened in at least last  15-20 years of parliamentary history.
Despite not finding a place in Finance Minister's speech, the budget documents reveal that the defence sector has got a hike of around 10%.
 
In his 2015-16 budget speech, Arun Jaitley had earmarked Rs 2, 46,727 crore for defence sector.
However in this year's budget, allocation to defence sector has been increased to 2.58 lakh crore against the revised estimates of Rs 2.33 lakh crore for 2015-16. Therefore, the defence budget has got a hike of 9.76% compared to revised estimates for 2015-16.
Read Also: Budget 2016: Here's the list of what's cheaper & what's dearer
What is noteworthy is that military pension has zoomed to Rs 82,332.66 crore mainly due to the One Rank One Pension scheme. The revised estimate for military pension for year 2015-16 was Rs 60,238 crore only.
 
However, the capital outlay for the three services, for modernisation, stood at Rs 78,586.68 crore which indicates a marginal increase of  Rs 4287.07 crore only.
One probable reason for small hike in capital outlay for defence could be the fact that the Defence Ministry failed to utilise the full capital budget for the current fiscal i.e. 2015-16.
The marginal increase in capital outlay for defence comes at a time when the three services are on the verge of finalising major defence deals like Rafale fighter jets, Apache, Chinook and Kamov helicopters besides M777 light weight howitzers.
In terms of percentage of total central government expenditure, defence budget accounts for 17.2% of total spend in the next fiscal 2016-17.
The total central government expenditure for 2016-17 amounts to Rs 19.78 lakh crore while the allocation for defence sector stands at Rs. 2.58 lakh crore.