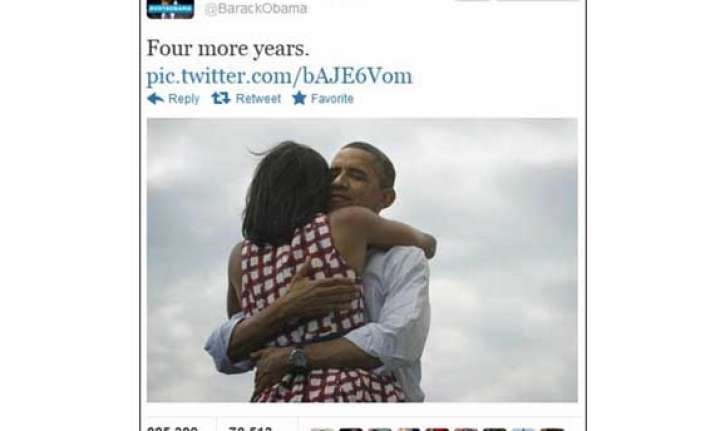 New Delhi, Nov 7: US President Barack Obama took to social media to announce his landslide victory over Mitt Romney. Soon after his re-election as the president of the United States he claimed victory with posts on his Twitter and Facebook pages.
At 11:14 p.m. ET, @BarackObama tweeted, "This happened because of you. Thank you."
A few minutes later: "We're all in this together. That's how we campaigned, and that's who we are. Thank you. – bo."
His first tweet was quickly "retweeted" 166,000 times while the second 104,600 times and the third, 277,600 times.
This is only the second time in several decades that a Democrat has won a second term in the White House. Mr Obama said in a message on his website that "this wasn't fate, and it wasn't an accident. You made this happen."
Obama heads to star-studded victory party with Stevie Wonder, Ashley Judd and Will.i.Am. Jubilant supporters, many of whom had worked as volunteers for Obama's campaign, waved flags wildly and danced.