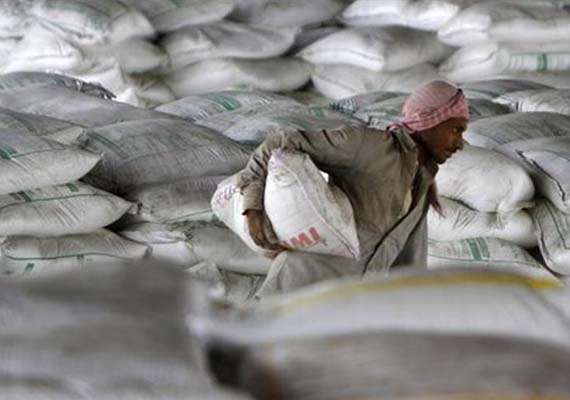 New Delhi, July 25: Ambuja Cements shares on Thursday plummeted by as much as 15 per cent, after Swiss cement-maker Holcim said it will increase stake in the company as part of restructuring its Indian operations.
Reacting negatively to the move, shares of Ambuja Cements opened the day on a weak note and further tumbled 14.59 per cent to Rs 163.20 on the BSE.
At the NSE, the scrip lost 14.98 per cent to Rs 162.55.
Holcim yesterday said it will merge holding firm Holcim India with its unit Ambuja Cements in a cash and share deal to restructure India operations in a two-step process estimated to be about Rs 14,500 crore.
Besides, as part of the process, Holcim India's over 50 per cent stake in ACC will go to Ambuja.
Shares of ACC also plunged 6.17 per cent to Rs 1,155 at the BSE.
Holcim's stake in Ambuja will rise to 61.39 per cent, from a little over 50 per cent after merger of Holcim India with Ambuja.
"No material benefits likely, as both the companies continue to operate separately. We expect the deal to have neutral impact on fundamentals of both the companies and expect the stock to trade range bound in short-term," said Vivek Mahajan, Head of Research, Aditya Birla Money.
Ambuja Cements would merge Holcim India through cash and share transactions. Ambuja will first acquire a 24 per cent stake in HIPL for Rs 3,500 crore, followed by stock merger between HIPL and Ambuja.
"As part of the merger, Holcim will receive 58.4 crore new equity shares of Ambuja resulting in an increase of its ownership in Ambuja from 50.55 per cent to 61.39 per cent," Holcim said in a statement.
At present, Holcim has a controlling stake in both ACC and Ambuja. The Swiss major directly owns 40.79 per cent stake in Ambuja and another 9.76 per cent through Holcim India (HIPL). Holcim has 0.29 per cent in ACC directly and 50.01 per cent through HIPL.
Post these transactions, Holcim will have 61.39 per cent stake in Ambuja and 0.29 per cent stake in ACC directly. Ambuja will have 50.01 per cent stake in ACC.