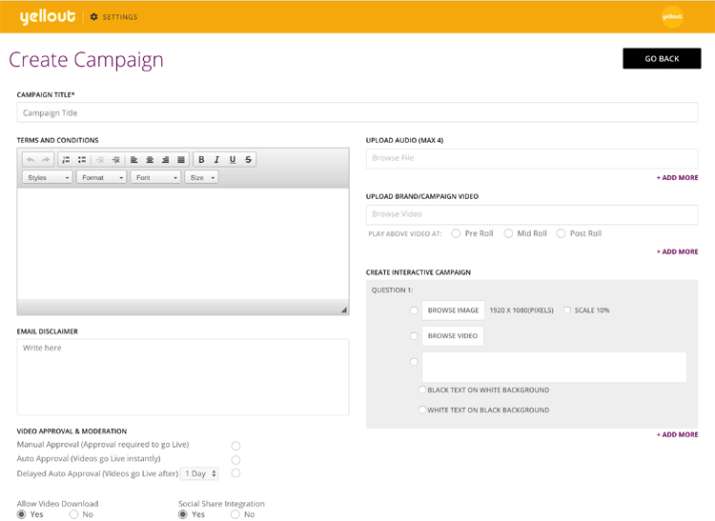 Yellout, claiming to be the "first of its kind video recording and engagement platform for enterprise and government" was launched today.
"Using video content for engagement from One-to-Many, is done easily enough, however there is no platform that has effectively addressed the area of Many-to-One i.e. user generated video engagement until Yellout. The problem faced by enterprise and governments is simple. Where and how can they get hundreds and thousands of their users to reverse broadcast videos to them and truly engage with them," the company said in a statement. 
"Yellout is a unique platform that changes the very syntax of video engagement. It is a plugin that enables enterprise, business and government to instantly create video campaigns, where end users can directly engage with them, via user generated video content. This video content flows into an organizations portal, app or platform, whilst giving complete approval, moderation and ownership rights," it said. 
Indian Premier League (IPL) franchise Kolkata Knight Riders is among the users of Yellout which it uses for video engagement campaigns with their fans in this year's league. Galgotias University and The Egg Factory are other users of the platform. 
Yellout was launched today by Raj Gopalakrishnan who has also co-founded and led multiple media ventures including Blue Mango Films, Zeppelin Design and Firefly Entertainment. 
Speaking on the launch, Gopalakrishnan said, "Companies and institutions have been craving to use videos as an engagement tool, but have been limited by existing platforms mechanisms and price. With Yellout, any customer can now create and run multiple video campaigns which work across devices and platforms, in a cost-effective manner."
"A first for India, there is no other application or plugin that offers video recording and engagement as an enterprise solution like Yellout. Enterprise, Government, NGOs, SMEs, tiny businesses - you name the size and you name the sector, Yellout's applicability is far reaching. Users may be internal or external, urban or rural, young or old - Video is the new voice and everybody loves to talk," he said.