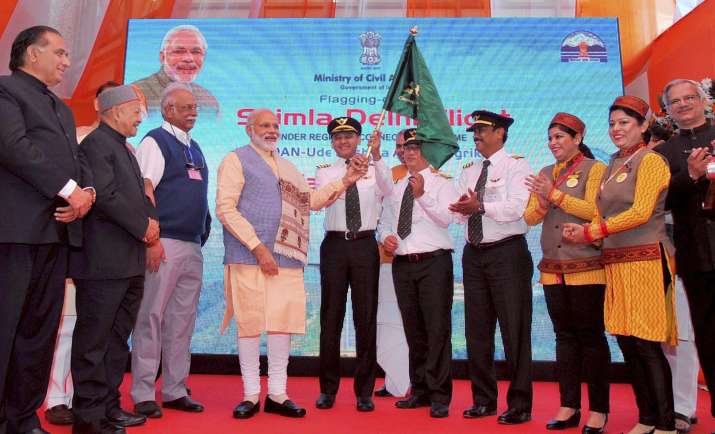 Prime Minister Narendra Modi today launched 'Ude Desh Ka Aam Nagrik' (UDAN) scheme which is aimed at boosting regional connectivity. 
He inaugurated the maiden Shimla-New Delhi flight under the scheme that will make air-travel affordable for the common man.
The flight was being operated by Alliance Air, a subsidiary of Air India. The airline had deployed its 42-seater ATR plane on this sector.
The scheme proposes to empower commoners with low-cost travel options considered a luxury until now. Under this scheme, 50 per cent of the seats on one-hour flights operating within 1000 km will be available for a maximum Rs 2,500. No other charges will apply on tickets booked under this scheme. The remaining seats, however, will be sold at market rates.  
Given below is the list of routes where this scheme will be applicable:
1.    Bhatinda to Delhi from March – Alliance Air
2.    Shimla to Delhi from April -- Alliance Air and Air Deccan 
3.    Agra to Jaipur from June -- Alliance Air
4.    Agra to Delhi from August – Air Deccan 
5.    Bikaner (NAL) to Delhi from June -- Alliance Air
6.    Gwalior to Delhi from June -- Alliance Air
7.    Gwalior to Delhi from September -- Air Odisha 
8.    Gwalior to Indore from June -- Alliance Air
9.    Gwalior to Lucknow from Sept – Air Odisha 
10.    Kadapa to Bengaluru from June – TruJet
11.    Kadapa to Bengaluru from Sept – Air Odisha 
12.    Kadapa to Hyderabad from June – TruJet
13.    Kadapa to Chennai from Sept – TruJet and Air Odisha 
14.    Kadapa to Vijayawada from Sept – TruJet
15.    Ludhiana to Delhi from June – Alliance Air
16.    Ludhiana to Delhi from August – Deccan Charters 
17.    Nanded to Mumbai from June – TruJet
18.    Nanded to Hyderabad from June – TruJet
19.    Pathankot to Delhi from June – Alliance Air 
20.    Vidyanagar to Hyderabad from June – TruJet
21.    Vidyanagar to Bengaluru from July – TruJet 
22.    Andal (Durgapur) to Bagdogra from July – Air Deccan
23.    Andal (Durgapur) to Kolkata from July -- Air Deccan
24.    Burnpur to Kolkata from July -- Air Deccan
25.    Cooch Behar to Kolkata from July -- Air Deccan
26.    Jamshedpur to Kolkata from July -- Air Deccan
27.    Rourkela to Kolkata from July Air Deccan
28.    Rourkela to Bhubaneshwar from Sept – Air Odisha
29.    Bhavnagar to Ahmedabad from Aug – Air Odisha 
30.    Bhavnagar to Surat from Aug – Air Odisha
31.    Diu to Ahmedabad from Aug – Air Odisha
32.    Jamnagar to Ahmedabad from Aug – Air Odisha
33.    Adampur to Delhu from Aug – Spice Jet
34.    Kanda to Mumbai from Aug -- Spice Jet
35.    Kanpur (Chakeri) to Delhi from Aug -- Spice Jet
36.    Kanpur (Chakeri) to Delhi from Sept – Air Odisha
37.    Kanpur (Chakeri) to Varanasi from Sept – Air Odisha
38.    Kullu (Bhuntar) to Delhi from Aug – Air Deccan
39.    Mithapur (Dwarka) to Ahmedabad from Aug – Air Odisha 
40.    Mundra to Ahmedabad from Aug – Air Odisha
41.    Pantnagar to Dehradun from Aug – Air Deccan
42.    Pantnagar to Delhi from Aug – Air Deccan 
43.    Pantnagar to Hyderabad from Aug – Spice Jet 
44.    Pondicherry to Chennai from Sept – Air Odisha
45.    Pondicherry to Salem from Sept – Air Deccan 
46.    Shillong (Barapani) to Dimapur from Aug – Air Deccan
47.    Shillong (Barapani) to Imphal from Aug – Air Deccan 
48.    Shillong (Barapani) to Silchar from Aug – Air Deccan 
49.    Shillong (Barapani)Agartala from Aug Air Deccan
50.    Shillong (Barapani) to Aizwal from Aug – Air Deccan
51.    Porbandar to Mumbai from Aug – Spice Jet 
52.    Ambikapur to Bilaspur from Sept – Air Deccan
53.    Bilaspur to Ambikapur from Sept – Air Odisha
54.    Bilaspur to Raipur from Sept -- Air Odisha 
55.    Jagdalpur to Raipur from Sept – Air Odisha
56.    Jagdalpur to Vizag from Sept – Air Odisha 
57.    Jaisalmer to Jaipur from Sept – Spice Jet 
58.    Jalgaon to Mumbai from Sept – Air Deccan 
59.    Jeypore to Bhubaneshwar from Sept – Air Odisha
60.    Jharsuguda to Bhubaneshwar from Sept – Air Odisha
61.    Jharsuguda to Raipur from Sept – Air Odisha
62.    Jharsuguda to Ranchi from Sept – Air Odisha 
63.    Kolhapur to Mumbai from Sept – Air Deccan 
64.    Mysore (Mandacally) to Chennai from Sept -- TruJet and Air Odisha
65.    Nayveli to Chennai from Sept – Air Odisha
66.    Ozar Nasik to Mumbai from Sept – Air Deccan
67.    Ozar Nasik to Pune from Sept – Air Deccan 
68.    Raigarh to Raipur from Sept – Air Odisha
69.    Salem to Bengaluru from Sept – Air Odisha
70.    Salem to Chennai from Sept – TruJet
71.    Salem to Pandicherry from Sept -- Air Odisha 
72.    Sholapur to Mumbai from Sept – Air Deccan 
73.    Utkela to Bhubaneshwar from Sept – Air Odisha
74.    Utkela to Raipur from Sept – Air Odisha
75.    Bidar to Bengaluru (Approval Awaited) – TruJet
76.    Hosur to Chennai (Approval Awaited) – TruJet