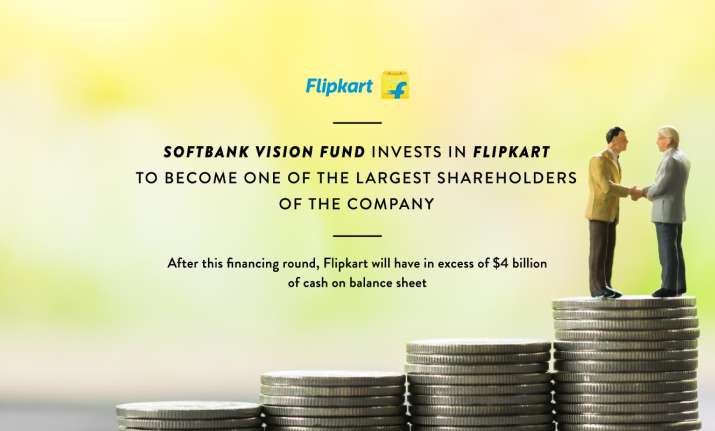 In a big boost to its fight against arch rival Amazon, India's biggest homegrown e-commerce firm Flipkart Ltd is learnt to have raised at least $2.5 billion (over Rs 16,000 crore) from SoftBank Vision Fund. The SoftBank investment comes after the Japanese conglomerate's failed bid at facilitating Flipkart's takeover of Snapdeal.
The funding from SoftBank takes Flipkart's cash reserves to more than $4 billion. Although Flipkart didn't disclose the amount, separate media reports citing people privy to the developments said that the investment amounted to at least $2.5 billion.
In a joint statement issued by co-founders Binny Bansal and Sachin Bansal, Flipkart said that the SoftBank investment comprises a mix of primary (investment in the company) and secondary capital (purchase of shares from existing shareholders).
"This is a monumental deal for Flipkart and India. Very few economies globally attract such overwhelming interest from top-tier investors. It is recognition of India's unparalleled potential to become a leader in technology and e-commerce on a massive scale. SoftBank's proven track record of partnering with transformative technology leaders has earned it the reputation of being a visionary investor," the co-founders said in the statement.
Excited to welcome Softbank Vision Fund as a long-term partner in @Flipkart!A true recognition of India's potential https://t.co/yGoGUEpOzz

— binnybansal (@binnybansal) August 10, 2017
The funding follows several reports suggesting SoftBank's investment of over $1.5 billion in Flipkart by putting in fresh capital and buying shares from Tiger Global Management, Flipkart's largest shareholder.
The fresh round of investment could make SoftBank the largest investor in Flipkart and reduce the influence of Tiger Global, whose representative Kalyan Krishnamurthy is Flipkart's CEO.
"We want to support innovative companies that are clear winners in India because they are best positioned to leverage technology and help people lead better lives. As the pioneers in Indian e-commerce, Flipkart is doing that every day," said Masayoshi Son, chairman and CEO of SoftBank Group Corp.
Flipkart has now raised more than $6 billion in cash since starting out in 2007, by far the highest by any Indian start-up and among the highest by any start-up globally. Flipkart raised $1.4 billion from Tencent Holdings Ltd, eBay Inc. and Microsoft Corp. in April.
The investment also needs to be seen in view of the appeal of the burgeoning Indian e-commerce market. Though diminished from 2015, India is still considered the last big e-commerce market left. Flipkart is the only local start-up that is seen as serious competition to Amazon India over the long term.