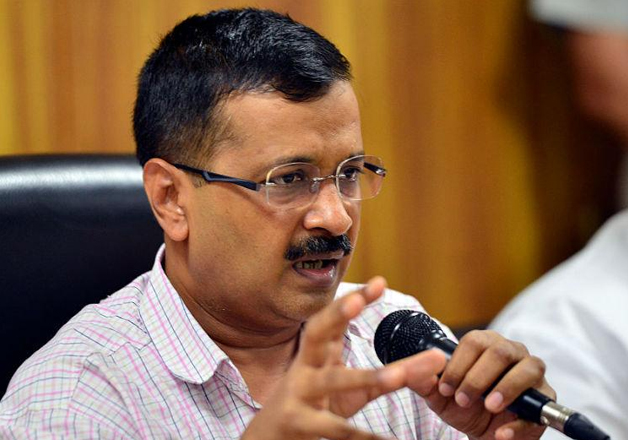 Aam Aadm Party (AAP) chief and Delhi CM Arvind Kejriwal on Saturday night stayed at Khalistan Commando Force (KCF) militant Gurinder Singh's residence in Moga, kicking off a political row in Punjab where assembly polls will be held on Feb 4.
According to reports, the Delhi CM secretly arrived here on Saturday night after addressing a rally in Zira and retired for the night in the house of Gurinder Singh alias Jaswinder Singh Ghali.
Gurinder, a native of Moga's Ghal Kalan village, is at present living in UK. He gave his house on lease to his Canada-based friend Satnam Singh before leaving to UK about six months back. 
Reports suggest that Gurinder's friend Satnam received Kejriwal. Moga station house officer Rajinderpal Singh said that Kejriwal stayed in the house and left on Sunday morning.
Gurinder was a module of the KCF, which in 1997 had triggered a blast near a temple in Mandi Mustafa locality of Baghapurana of Moga. The trial court had acquitted Gurinder in this case.
Meanwhile, the ruling Shiromani Akali Dal (SAD) and the Congress have alleged that Kejriwal was 'hand in glove' with radical elements and was ready to go to any extent to get a few votes. 
SAD chief Sukhbir Singh Badal on Monday asked the Election Commission to take note of Kejriwal's stay at Gurinder's residence, claiming this has vitiated the poll atmosphere in Punjab. 
Terming as 'opportunistic outsiders' the AAP leaders, he alleged they were only interested in grabbing power, even by riding on the shoulder of extremist forces.
"The night stay by Kejriwal at the residence of Khalistan Commando Force general Gurinder Singh had vitiated the poll atmosphere in Punjab and given a fillip to radical forces. "This kind of conduct must be snubbed immediately," he said. 
He said that Kejriwal owes a moral responsibility to tell Punjabis why he had stayed at the residence of a militant in Moga two days ago. 
"Not only did you stay at the residence of the KCF terrorist but also held a meeting with radical elements besides making calls to foreign countries. Punjabis have the right to know why Kejriwal was holding repeated meetings with extremist elements," Badal said.
"Earlier Kejriwal met Babbar Khalsa International (BKI) front organisation Akhand Kirtani Jatha members, including R P Singh, at Mohali. You have also held meetings with radical elements who organised a separatist conclave about an year ago," he added. 
Congress MP and party candidate from prestigious Jalalabad Assembly constituency Ravnit Bittu cautioned people that after the Akali Dal, it was AAP that was using the radicals to come to power in Punjab and this could 'vitiate the atmosphere'. 
"The links of AAP chief Arvind Kejriwal with the radicals have repeatedly been exposed. It is too well known a fact that AAP has solicited the support of the United Akali Dal that is the front organisation of the radicals," he said. 
However, AAP's Punjab affairs in-charge Sanjay Singh denied that Kejriwal stayed in the house of a militant.
Punjab will go to polls in a single phase on February 4. Results will be declared on March 11.