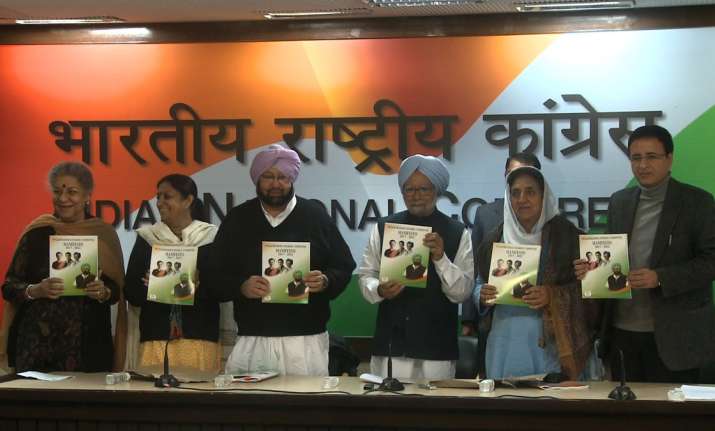 Out of power for the last ten years in Punjab, the Congress today released its election manifesto for the state, promising a host of freebies like farm loan waiver and free power, smartphones, textbooks and doles to unemployed youth.
Former Prime Minister Manmohan Singh, who released the manifesto, accused the Akali-BJP government with "misusing" governance in the last ten years and said Capt. Amarinder Singh's leadership is "badly needed" in the State.
"The challenge before Punjab is to rise above all this din and recognise that the people of Punjab need a better tomorrow. This election manifesto is a forward-looking visionary document, which promises the people that we will undo the damage done to the Punjab economy by the State government in the last ten years," he said.
Speaking on demonetisation, he said that it will affect the election results in Punjab. "Demonetisation is an important issue which will figure in Punjab as well."
"It has been proven now that the country's GDP will be affected by demonetisation. National income unit of the CSO (Central Statistical Organisation) has come out with a statement that GDP growth will be 7.1 percent as against the target of 7.6 percent, but this does not take into account the effect of demonetisation," he said.
Speaking highly of Amarinder, Manmohan Singh said he is a leader of great vision who has a wealth of experience and commitment to the cause of development in Punjab.
He said Punjab's fiscal situation has been bad under the Akalis as the State has inflicted great damage on the economy and polity of Punjab being a victim of terrorism.
"Amarinder's government will undo all this damage and set a new pathway for a better tomorrow which will see that people will have. A higher per-capita Income, better distribution of Income, better employment prospects and better infrastructure," Manmohan Singh said.
The manifesto promises loan waiver and free power to farmers, wiping out of drug trade within a month, stipend of Rs. 2,500 per month to unemployed youth, free smart mobile phones to youth and free textbooks to all children.
Amarinder Singh announced that the state would generate as many as 25 lakh jobs within the next five years so as to provide employment to all youth in the State.
He also promised to crackdown on drugs and corruption, and bring a new industrial policy within 90 days, besides promising an end to VIP culture, bring sweeping economic reforms and total transparency in governance. He also promised free houses to homeless dalits/SCs/OBCs and one job in every family.
He lamented that the growth rate of Punjab was down at 5.6 per cent, against the national average of 7.3 per cent, and that the State has slid from number one position to number 19 under Akalis. "We are in a very bad shape," he said.
On the contentious SYL Canal issue, he insisted there was no additional water in Punjab and that when the Assembly will be convened a law will be passed for not sharing any of the State's waters.
"We are not for not giving. But, we don't have it (to share)," he said when asked about it.
Also, Singh revealed that the Congress is coming up with a programme called 'Guardians of Governance'.
"We are starting a programme called Guardians of Governance. This will be a group of ex-servicemen from panchayats to blocks to districts, right up to the chief minister. This department will be under the chief minister. They will report about the implementation of schemes. We will utitlise a discipline force. This is going to hopefully eradicate the misuse of funds," said Amarinder.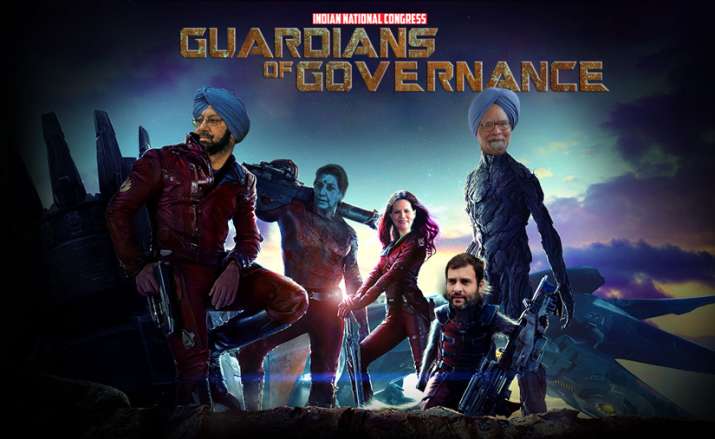 Congress manifesto provides for 'Guardians of Governance'
Asked specifically if Amarinder was the chief ministerial candidate, AICC Secretary in-charge Asha Kumari said, "He is officially president, who is leading the party in the polls."