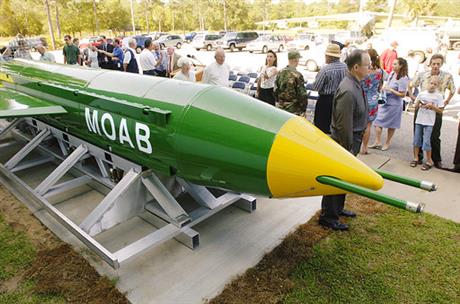 The US military on Thursday dropped the "mother of all bombs" in eastern Afghanistan in close coordination with Afghan forces.
The development evoked mixed reactions from the leaders of landlocked nation. 
Given below are the reactions of top Afghani leaders: 
"Precautions were taken to avoid civilian casualties with this airstrike," President Ashraf Ghani said on Twitter.
I vehemently and in strongest words condemn the dropping of the latest weapon, the largest non-nuclear #bomb, on Afghanistan by US...1/2

— Hamid Karzai (@KarzaiH) April 13, 2017
2/2 military. This is not the war on terror but the inhuman and most brutal misuse of our country as testing ground for new and dangerous...

— Hamid Karzai (@KarzaiH) April 13, 2017
A journalist from Afghanistan also condemned the bombing in a series of tweets.
While the "civilized west" is celebrating Easter, the "uncivilized & barbarian Afghan muslims" are being dropped at 21,000-pound bomb... (1)

— Mirwais Afghan (@Miirwais) April 13, 2017
Dropping 'mother of all bombs' was yet another stage show by #Trump who made it clear that Muslim lands are but the West's laboratories (2)

— Mirwais Afghan (@Miirwais) April 13, 2017
Afghan ambassador to Pakistan also took to Twitter to share his views.
2/2: If big bombs were the solution we would be the most secure place on earth today.

— Dr Omar Zakhilwal (@DrOmarZakhilwal) April 14, 2017
It is believed that at least 36 ISIS militants were killed in the massive attack by the US. In a statement, Pentagon said that the military dropped a massive GBU-43, a non-nuclear, 10-tonne missile powered by a wave of air pressure, on an ISIS hideout in Achin district of Nangarhar province on Thursday.