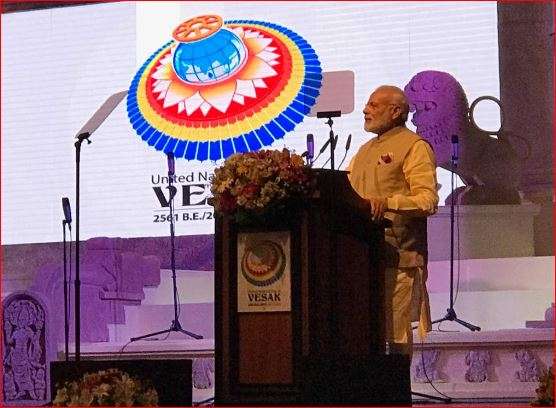 Prime Minister Narendra Modi today announced in Sri Lanka that Air India would begin direct flights between Colombo and the holy city of Varanasi from August this year.
PM Modi, who is on a two-day visit to Sri Lanka, made the announcement during his address at the inauguration of the International Vesak Day in Colombo.
Vesak Day is  the biggest festival of Buddhists.
PM Modi said that the flights will allow "my Tamil brothers and sisters" to visit Varanasi, the land of Kashi Viswanath. 
PM @narendramodi anouncs direct flt b/w Colombo n Varanasi to enable Buddhists n Hindus frm 🇱🇰& 🇮🇳 to visit imp pilgrim sites in both ntns pic.twitter.com/V0FrFQ1Eiy

— Raveesh Kumar (@MEAIndia) May 12, 2017
At a distance of 10 kilometres from Varanasi, lies Sarnath, one of the most revered Buddhist pilgrimage centres.  It is believed that after attaining the enlightenment at Bodh Gaya in Bihar, it was in Sarnath that Lord Buddha preached his first sermon, sanctified as Maha Dharm Chakra Parivartan.
The direct flights will aid pilgrims from Sri Lanka, a Buddhist-majority country, to visit Sarnath.  Varanasi in Uttar Pradesh is the parliamentary constituency of the prime minister, from where he contested the 2014 Lok Sabha election.
This is Modi's second visit to Sri Lanka in two years. He arrived yesterday primarily to attend the International Vesak Day celebrations and his vist is aimed at reinforcing the traditional connect between India and Sri Lanka.
(With PTI inputs)