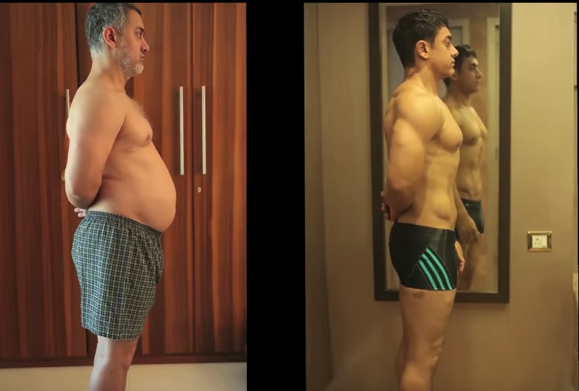 A video claiming that superstar Aamir Khan used steroids for his 'Dangal' body is going viral on social networking website Facebook. The video that features Ranveer Ahllabadia, who claims to be a fitness expert, has been viewed over 7 lakh times in the last 22 hours.
Earlier this week, the makers of 'Dangal' released a video that showed Aamir's journey of losing 25 kgs in just five months. The video surprised everyone and Aamir was lauded for his dedication towards his work.
However, this hard work maybe didn't convince Ranveer as he took to Facebook to tell the 'reality'. He started the video by saying that he is not doing this to malign Aamir's image but to tell everyone the truth behind such changes.
In the 8 minutes long video, Ranveer gave arguments to support his claim. He claimed that it is impossible for a person to achieve this enviable physique in such a short span of time. He added that the 'Dangal' body can be built but it takes longer than five months. Ranveer also pointed out that the most common reason why people quit gym is because they don't see results in the time expected.
Ranveer then went on to draw comparisons between Aamir Khan and Akshay Kumar, and called the latter a fitness freak. He then said that as compared to Akshay, Aamir hasn't dedicated his life to fitness, and said there is something fishy about his change.
Highlighting the age at which Aamir achieved this body; Ranveer claimed that if it was easy for 51-year-old to do it, there would be more on the streets flaunting amazing physique. Ranveer said that he doesn't mean to de-motivate people but wished to educate them about steroids.
Check the video and decide for yourself if you agree with Ranveer or no: