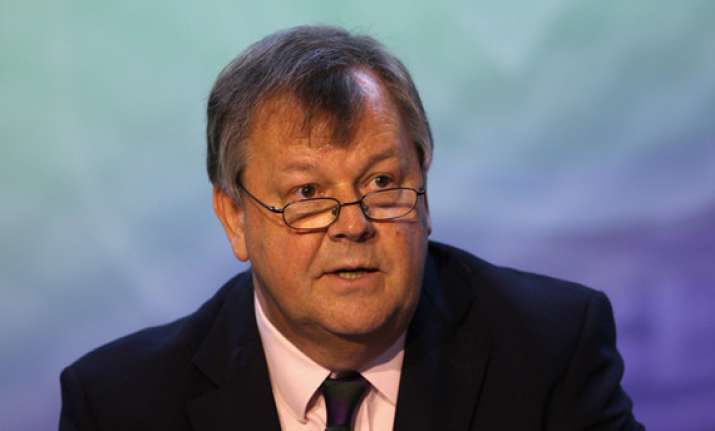 London, Dec 15: Wimbledon chief executive Ian Ritchie is leaving the All England Club after six years to head English rugby's rebuilding job after a dismal World Cup.

Ritchie was hired on Wednesday as the new chief executive of the Rugby Football Union, which has been in turmoil for much of this year following the organization's botched attempt to hire a new performance director.

English rugby's reputation was further tarnished when documents compiled to examine England's failings at the World Cup — where it was eliminated at the quarterfinal stage amid indiscipline on and off the field — were leaked and published by a national newspaper.

Martin Johnson had quit as coach by that stage and Ritchie's first priority will be to lead the search for a replacement who will guide England to the 2015 World Cup on home soil.

"I believe English rugby has a very bright future, culminating in a once-in-a-lifetime home World Cup in 2015," Ritchie said.

"I am determined to help rugby create a legacy from the tournament that will benefit the sport for generations to come. The RFU has great commercial partners and a very sound financial base, underpinning the development of rugby union at grassroots and elite level."

Ritchie has been Wimbledon's chief executive since 2005 and was one of the brains behind the All England Club's decision to put a retractable roof on Centre Court in 2009.

He had also been linked with the executive chairman role at the governing body of men's tennis, the ATP.

"We will be sorry to lose Ian and in thanking him for his outstanding contribution to Wimbledon, we wish him every success at the RFU," said Philip Brook, chairman of the All England Club.

Ritchie is also a director of Wembley Stadium and a non-executive director of England's Football League.

The RFU has been without a permanent chief executive since John Steele resigned in June, after just nine months in the role.

Steele lost credibility at the RFU after changing the performance director's job specification at late notice in what appeared a deliberate move to block the appointment of Clive Woodward, the 2003 World Cup-winning coach.

Martyn Thomas — the RFU chairman at the time — took over as the acting chief executive as well but quit the organization last month, at the end of weeks of infighting which has left the RFU's reputation in tatters.

England's new coach will report directly to Ritchie and the RFU's board of directors unlike in Johnson's era, when his line manager was elite rugby director Rob Andrew.