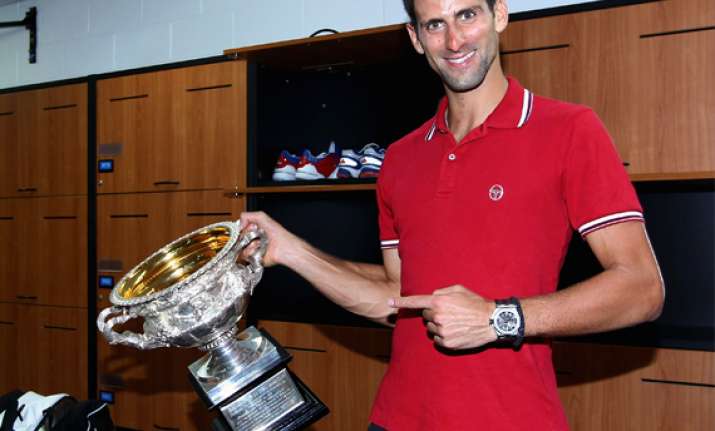 Melbourne, Australia, Jan 30: Novak Djokovic dispensed with the band and the raucous dressing room celebrations.

After the longest final ever in a Grand Slam, it was only fitting that he put on a solo act and then pulled the curtains on another Australian Open.

He chose the AC/DC rock anthem "Highway To Hell," belting out a few lyrics and strumming the air guitar.

After a couple of hours sleep, Djokovic arrived at a customary post-victory photo shoot in a downtown Melbourne park, where he recalled the brief pre-dawn celebrations at Rod Laver Arena and made a halfhearted attempt to sing the refrain.

His legs were too tired, and his throat a bit hoarse. "Oh man, I'm tired."

And so he should be. Djokovic completed a 5-hour, 53-minute 5-7, 6-4, 6-2, 6-7 (5), 7-5 victory over Rafael Nadal at 1:37 a.m. — ending an epic match with a forehand winner that finally finished off the Spaniard.

He defied exhaustion to tear off his shirt and flex his bare torso as he made his way over to celebrate with his friends and family. He was still doing interviews after 4 a.m.

It didn't leave much time for celebrating.

Unlike his victory at the 2011 Australian Open, when he beat his friend Andy Murray in straight sets and then kicked off an all-night party with a rock band in the locker room.

"I didn't have any more energy left to celebrate," Djokovic said Monday. "I was preferring my bed."

When he awoke not long after, his body reminded him not just of the incredible events of the previous evening, nearly six hours of physically punishing tennis against one of the game's most ferociously competitive athletes, but also of a near five-hour semifinal two nights earlier against Murray.

"I felt lots of pain all over the body," he said.

"The Adrenalin is still there and I still am very excited about what I have experienced here in the last two weeks and especially last night. I'm full of joy, but I think still I don't have a real sense of what's going on."

Djokovic wasn't the only one feeling a little dazed Monday.

There were still 1.86 million people watching in Australia until after 1:30 a.m. The peak audience was 3.86 million, approaching about one-fifth of the population.

When the last ball was struck, hardly any of the almost 15,000 spectators in Rod Laver Arena had left.

An historic final provided a fitting climax to a men's tournament that also featured two riveting semifinals between Nadal and No. 3-ranked Roger Federer, and Djokovic and No. 4 Murray.

Tournament director Craig Tiley, celebrating a record crowd attendance of 686,006 across the two weeks, described the final as "the greatest match of all time."

A day after celebrating her first Grand Slam title, even Victoria Azarenka came out to watch the men's final.

The 22-year-old Belarusian needed 82 minutes — two minutes more than the first set lasted between Nadal and Djokovic — to rout Maria Sharapova and claim both the trophy and the No. 1 ranking.

Djokovic's seventh straight win in a final over Nadal underlined his dominance of the men's game, which until last year had been headlined by Nadal and Federer.

Nadal got closer to ending the Serb's recent stranglehold over him, but after being a break up in the fifth set, couldn't get over the line. Despite a third straight loss in a Grand Slam final, Nadal leaves Melbourne more motivated than ever.

Less than 24 hours before the tournament began, he was in tears, believing a freak knee injury he sustained while sitting on a chair would prevent him from competing in the tournament.

To end it having pushed his nemesis to the limit was more than enough consolation for the 10-time Grand Slam champion.

"I wanted to win, but I am happy about how I did," he said. "I had my chances against the best player of the world today. I played one against one."

In the end, Djokovic's unshakable belief that began to develop when he won the Davis Cup with Serbia at the end of 2010, and strengthened when he went the first 41 matches of last season unbeaten, pulled him through.

Once the bridesmaid to Nadal and Federer, Djokovic understood exactly how his opponent felt.

"When I played three, four years ago against Rafa and Roger in Grand Slam semifinals and finals, I felt that they were just superior on the court, that they had this mental advantage," he said.

"Because they just know that when the time comes, when the match is breaking down, fifth set, they will always prevail, because they believe more, they have more experience and they know what to do."

Now Djokovic is experiencing that unbeatable feeling.

He is the fifth man in the Open Era to win three straight major titles, and already has the French Open — the one major to elude him — in his sights. He won't even rule out the ultimate: the Grand Slam.

"One player (Rod Laver) has done it, so it is possible," he said.

"Obviously the times are different and tennis nowadays is much more competitive and much more physical. And that makes that challenge more difficult to achieve. But everything is possible."

With the London Olympics to follow Wimbledon this year, Djokovic could even make it a Golden Slam by winning the gold medal at London 2012 to go with the annual four majors.

"The facts are that I'm at the peak of my career," he said. "I feel physically and mentally at the peak, I feel strong, I feel motivated, I feel eager to win more trophies."