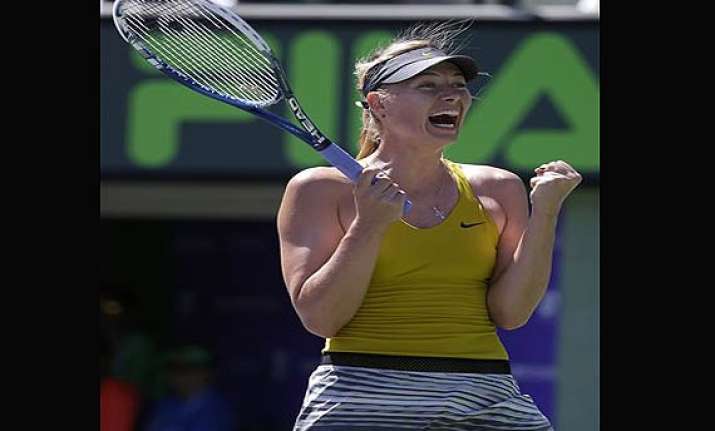 KEY BISCAYNE, Florida:  Maria Sharapova's quest for her first title at Key Biscayne continues.
Sharapova rallied from being down a break in the first set to oust Petra Kvitova 7-5, 6-1 on Tuesday and earn a spot in the semifinals of the Sony Open at Key Biscayne, where she's been a finalist five times but has never won.   
The fourth-seeded Sharapova will face either defending champion Serena Williams or Angelique Kerber in the semifinals. Sharapova -- who needed three-setters to get through her two most recent matches at Key Biscayne -- feasted off 30 unforced errors made by the eighth-seeded Kvitova, who lost 11 of the final 13 games.   
"I love the energy here," Sharapova said.   
So does three-time champion Novak Djokovic, who reached the quarterfinals of the men's draw with a 6-3, 7-5 win over Tommy Robredo 6-3, 7-5. The second-seeded Djokovic converted his only two break points of the match, then finished it off with a crosscourt forehand winner.   
Djokovic essentially gave back a point in the second set. A groundstroke from Robredo clipped the baseline and Djokovic couldn't handle it, but the ball was erroneously called out. After a review showed the ball was in, the point was ordered to be replayed.   
Djokovic shouted "It's OK, it's OK" as the fans at Key Biscayne applauded his sportsmanship.   
"For me, it's something that is part of the sport, fair play," Djokovic said. "I expect everybody else to do the same. Of course, not everybody's the same, but for me, that's something that's normal. Just a normal, natural reaction."   
There was an upset on the men's side, with 20th-seeded Kei Nishikori moving into the quarterfinals by knocking out fourth-seeded David Ferrer, 7-6 (7), 2-6, 7-6 (9). Ferrer had beaten Nishikori in the same round at Key Biscayne a year ago, their most recent meeting before Tuesday.   
The start of play was delayed nearly an hour by rain, and Sharapova's match was briefly halted by a drizzle. Also Tuesday, former world No. 1 Martina Hingis teamed with Sabine Lisicki to reach the women's doubles quarterfinals.