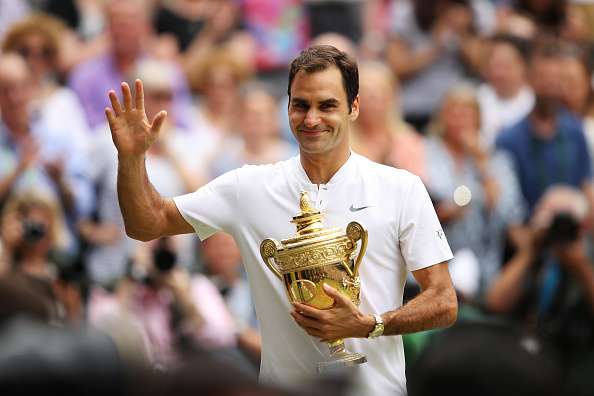 Believe! That's what Roger Federer's record eighth Wimbledon victory has taught us above everything. It tells us that we all should believe in our abilities, be persistent with our goal and back it up with sheer hard work and determination to achieve the unthinkable. On Sunday, the Swiss maestro once again took his greatness a step further by becoming the tournament's oldest champion with a straight-sets victory over Croatia's Marin Cilic. 
Federer defeated Cilic 6-3, 6-1, 6-4 in one hour forty-one minutes to claim his record 19th Grand Slam title. At 35, he also becomes the Wimbledon's oldest men's winner of the modern era, succeeding Arthur Ashe, who was almost 32 when he won in 1976.
With this win, Federer has surpassed greats like Pete Sampras and William Renshaw who share the record of seven Wimbledon titles with the Swiss champion till Saturday. But, on Sunday – Federer once again showed why he is the most loved son of the iconic Wimbledon Centre Court who equally waits for his heir to turn up and script history. After beating Cilic, 'King' Federer as he's often hailed as stand alone at the top with an unprecedented eighth Wimbledon men's singles championship title. 
Federer wasted no time and showed how much he values this triumph by posting a picture on his official Twitter account quoting: "#19 tastes great". It certainly does!
#19 tastes great pic.twitter.com/3Hv3lM5Rk9

— Roger Federer (@rogerfederer) July 16, 2017
As the world celebrates Roger Federer's historic triumph at Wimbledon, let's take a look at how the well-known sportspersons and celebrities congratulated the master:-
19🏆😱!! The king @rogerfederer !! pic.twitter.com/x3CUxdOjVJ

— Stanislas Wawrinka (@stanwawrinka) July 16, 2017
Congratulations legend @rogerfederer on winning your 8th #WimbledonFinal . Champion amongst champions you are. What a treat to watch.

— Virender Sehwag (@virendersehwag) July 16, 2017
Thank you for inspiring always. ❤️ No one deserves it more than you @rogerfederer #WimbledonFinals pic.twitter.com/FsiEadKFUV

— RITU PHOGAT 🤼‍♀️ (@PhogatRitu) July 16, 2017
1️⃣9️⃣Grand Slam Titles and 8️⃣ @Wimbledon 🏆🙌 The King! #GOAT Congratulations @rogerfederer 👏👏👏 pic.twitter.com/kplD2e2uo8

— Elena Vesnina (@EVesnina001) July 16, 2017
What a player! Take a bow roger. @rogerfederer #RO8ER #JustDoIt

— ajinkyarahane88 (@ajinkyarahane88) July 16, 2017
So special to witness historically moment... @rogerfederer please never stops to play #tennis !! #19 #8th @Wimbledon #RogerFederer for ever pic.twitter.com/h0aZB7VNSh

— Marion bartoli (@bartoli_marion) July 16, 2017
A record 8 Wimbledon championships and a lifetime of being a champion on and off the court and @rogerfederer is the greatest of all time

— Billie Jean King (@BillieJeanKing) July 16, 2017
Time stands still and once again it's for @rogerfederer! Congratulations Champ 🏆 #WimbledonFinal

— Leander Paes (@Leander) July 16, 2017
Huge congratulations to @rogerfederer on his historic achievement! 8️⃣🏆🐐Well done to @cilic_marin too. A great @Wimbledon, one for the ages!

— Kevin Anderson (@KAndersonATP) July 16, 2017
WHAT A CHAMPION...Yet another one for @rogerfederer! Congratulations! #WimbledonFinal

— Harbhajan Turbanator (@harbhajan_singh) July 16, 2017
What a Champion!