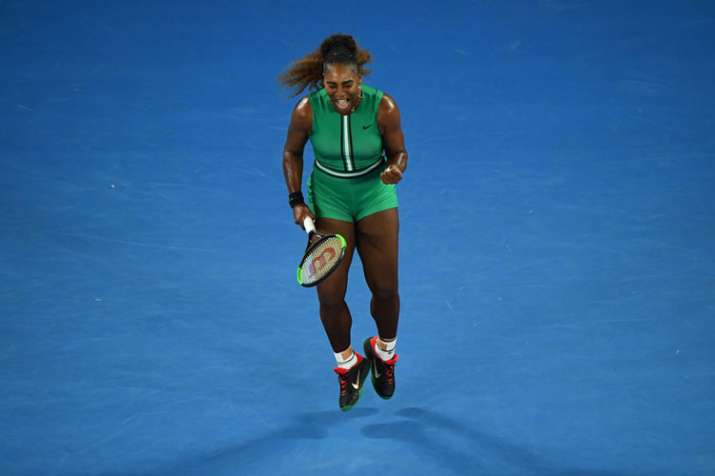 even-time champion Serena Williams has advanced to the fourth round at Melbourne Park with a 6-2, 6-1 win over Dayana Yastremska.
The 16th-seeded Williams has now won 20 consecutive sets at Melbourne Park, having not dropped a set in her 2017 title run and winning three rounds here this year in straight sets. She did not play here in 2018 following the birth of her daughter.
Yamstremska received treatment during a medical timeout after she turned her right ankle while stretching to return a shot in the fifth game of the second set.
Williams won her 84th match at Melbourne Park, which is more than any other woman in Australian Open history. She has lost just 10 matches in 18 appearances at the tournament.
Williams, attempting to win a record 24th Grand Slam singles title, will next play Simona Halep, who had defeated Venus Williams in round three.
MUGURURZA HAS IT EAST VERSUS BASCSINSZKY
😊 @GarbiMuguruza is stoked & not just because she finished well before 3am tonight! #AusOpen pic.twitter.com/BhzQ984hOy

— #AusOpen (@AustralianOpen) January 19, 2019
Two-time major champion Garbine Muguruza got to enjoy a much earlier start — and much earlier finish — at the Australian Open this time.
One round after playing a match that began at 12:30 a.m. and ended after 3 a.m., Muguruza's workday was done before bedtime thanks to a far more reasonable schedule and a straightforward 7-6 (5), 6-2 victory over Timea Bacsinszky.
This one was underway before 7:30 p.m. and was done by about 9:15 p.m.
The 18th-seeded Muguruza's previous outing, a three-setter against Johanna Konta, is believed to have been the first Australian Open singles match to start after midnight.
In the fourth round, Muguruza will take on 2016 U.S. Open runner-up Karolina Pliskova.
PLISKOVA BEATS GORGI TO REACH ROUND 4
Czech-mate 🇨🇿@KaPliskova makes her third consecutive #AusOpen 4R, def. Camila Giorgi 6-4 3-6 6-2.#GameSetMatch pic.twitter.com/J0I9Hvv2Qa

— #AusOpen (@AustralianOpen) January 19, 2019
Karolina Pliskova has reached the fourth round at the Australian Open for the third year in a row.
The 2016 U.S. Open runner-up and No. 7 seed eliminated 27th-seeded Camila Giorgi 6-4, 3-6, 6-2.
Pliskova will face two-time major champion Garbine Muguruza for a quarterfinal berth.
SVITOLINA THROUGH TO NEXT ROUND
What a day!💥😅 I think it's safe to say that we left everything on that court today @zhangshuai121 @AustralianOpen pic.twitter.com/0t1QRq1WT0

— Elina Svitolina (@ElinaSvitolina) January 19, 2019
Sixth-seeded Elina Svitolina came back from 3-0 down in the third set to beat Zhang Shuai 4-6, 6-4, 7-5 in the third round at Melbourne Park.
Both players took medical timeouts during the almost three-hour match.
Zhang took a medical time out after the second set ended and again after the fifth game of the final set when Svitolina was trailing 3-2. Zhang had received frequent treatment between games as well for a right shoulder or back ailment.
Svitolina broke Zhang's serve in the sixth game to level the set at 3-3, then fended off two break points in the following game before holding to lead 4-3.
Svitolina served for the match at 5-4 but Zhang broke to extend it. Svitolina hit a backhand passing shot to clinch the 11th game and take a 6-5 lead, then broke Zhang's serve in the final game, clinching the 2-hour, 55-minute match when Zhang hit a forehand into the net.
Svitolina will play Keys in the fourth round.
KEYS EASES INTO ROUND 4
.@Madison_Keys is into the second week!

Def. #Mertens 6-3 6-2 to set up a 4R clash vs #Svitolina.#AusOpen #GameSetMatch pic.twitter.com/yI8ANTgl4p

— #AusOpen (@AustralianOpen) January 19, 2019
Madison Keys has reached the second week of the Australian Open for the fourth time with a 6-3, 6-2 win over No. 12-seeded Elise Mertens.
Keys, a semifinalist here in 2015 and runner-up at the 2017 U.S. Open, converted four of her seven break points and saved seven of the eight she faced against Mertens.
"I'm definitely very happy with how I played today — especially how I served and got out of some could-be-bad situations," she said.
The No. 17 seed didn't play any warm-up tournaments before the season's first major and says "I'm feeling a lot better now that I've had three wins."
She has reached the semifinals at three of the last five Grand Slam events. Her opponent in the fourth round will be sixth-seeded Elina Svitolina, who came back from 3-0 down in the third set to beat Zhang Shuai 4-6, 6-4, 7-5.
OSAKA OVERCOMES SU-WEI CHALLENGE
"I really love Grand Slams so anything that I can do to stay here a bit longer, I try to do."

Well fought, @Naomi_Osaka_!#AusOpen pic.twitter.com/mJP0cQibDm

— #AusOpen (@AustralianOpen) January 19, 2019
U.S. Open champion Naomi Osaka overcame a frustrating first set and a tricky rival to reach the fourth round of the Australian Open with a 5-7, 6-4, 6-1 win over Hsieh Su-wei.
The fourth-seeded Osaka got a warning from the umpire for smashing her racket onto the court in the first set and was down a break in the second before gaining control of the match.
The 33-year-old Hsieh, who plays with a double-handed grip on both sides and uses a mixture of spin and slice and drop shots to unsettle her rivals, reached the fourth round last year here and at Wimbledon, where she beat top-ranked Simona Halep.