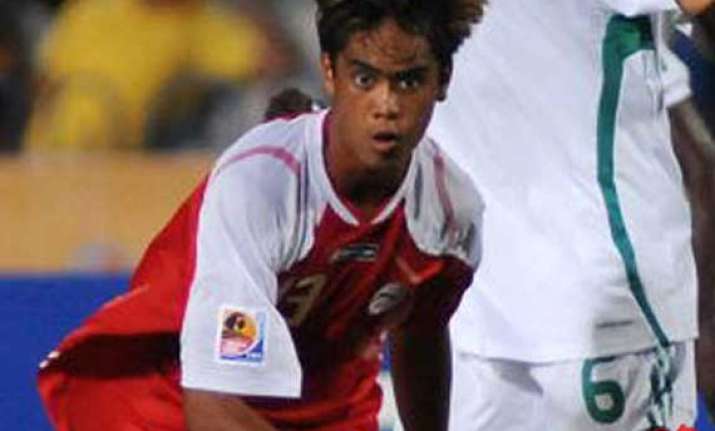 Solomon Islands, June 3: Lorenzo Tehau scored his fifth goal in two matches as Tahiti held off a brave rally from nine-man New Caledonia to win 4-3 on Saturday and stay unbeaten atop Group A at the Oceania Nations Cup football tournament.
Tehau scored four goals in Tahiti's 10-1 opening round win over Samoa and was again joined by brother Alvin Tehau among the goalscorers as Tahiti stayed on track for the semifinals.  
But they had to battle hard for their second win of the tournament as New Caledonia, who won their opening match 5-2 over Vanuatu, rallied strongly after trailing 3-0 in the 54th minute when they lost a second player to a yellow card.  
Georges Gope-Fenepej was sent off in the 28th minute for a deliberate handball and Jean-Patrick Wakanumune in the 54th minute for a dangerous challenge. 
 Alvin Tehau scored first for Tahiti in the 19th minute, heading home brother Lorenzo's cross. Captain Nicolas Vallar added the second from the penalty spot in the 28th minute after Gope-Fenepej's hand ball.  
Jonathan Tehau then set up brother Lorenzo for the third goal in the 32nd minute to allow Tahiti to take a comfortable 3-0 halftime lead. But Tahiti wasn't able to add to that advantage until the 84th minute.  
In the meantime, New Caledonia lost Wakanumune to a red card but still managed goals through Marius Bako and Jacques Haeko to close to 3-2. Bako expertly chipped goalkeeper Mikael Roche when he failed to punch clear and Haeko knocked the ball home from close range.  
Tahiti managed to fend of the threat of a major upset when striker Steevy Chong Hue cut the ball back to substitute Roihau Degage who slotted home the crucial goal.  
In Saturday's other Group A match, Vanuatu beat Samoa 5-0. Jean Naprapol, Brian Kaltack, Derek Malas, Robert Tasso and Kensi Tangis scored for Vanuatu who have matched New Caledonia's one win-one loss record.  
The winner of the tournament qualifies automatically for the 2013 Confederations Cup while the semifinalists -- the top two teams from each four-team group -- progress to the third stage of Oceania World Cup qualifying which begins in September.  
New Zealand, who opened their tournament with a 1-0 win over Fiji on Saturday, represented the Oceania region at the 2010 World Cup in South Africa, drawing their three games in pool play.