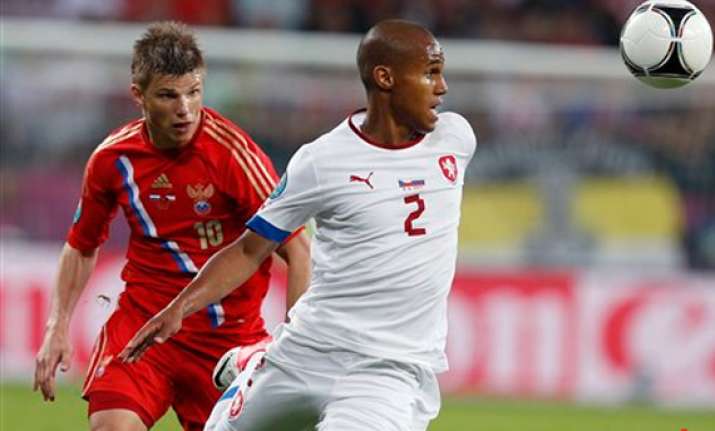 Poland, Jun 9 : Racist abuse by Russian fans toward a Czech Republic player at a European Championship match was reported to UEFA on Saturday.
Expert spotters from the Football Against Racism in Europe (FARE) network identified verbal insults targeted at Theodor Gebre Selassie, who is black, during Russia's 4-1 win on Friday in Wroclaw, Poland.
"There was some suggestion that the Czech defender went to take a corner and had a few problems," FARE executive director Piara Powar told The Associated Press.
Fans also displayed a nationalist "Russian Empire" flag which "we take as evidence of far-right sensibilities," Powar said in a telephone interview.
Film circulating online Saturday also showed some Russian fans attacking stadium stewards after the match.
Four security personnel were treated in a hospital but were not badly injured, a Polish police spokesman said. Police are studying security video footage to identify fans involved.
UEFA said in a statement that "around 30 fans" attacked the stewards, and "the situation was quickly and efficiently brought under control."
The reported incidents came in the second match of Euro 2012, which kicked off Friday amid concerns of potential racist incidents involving fans in co-host nations Poland and Ukraine.
However, Russia's fans are under scrutiny after UEFA linked up with FARE to appoint a 31-strong team of expert anti-discrimination spotters.
Two monitors, mingling with fans of each team at a match, will work to identify offensive banners, chants and behavior in stadiums, and report to UEFA within 24 hours.
Powar said FARE officials aimed to provide footage of Gebre Selassie being abused.
"We are trying to get that evidence, and it's not always possible to capture it on film," he said.
UEFA has pledged zero tolerance of discrimination at the three-week tournament.
The 16 competing teams' national federations are responsible for their fans' actions. They would be fined by UEFA before facing possible expulsion from Euro 2012 for repeated offenses.
"We don't expect UEFA to act on every report," Powar acknowledged. "It's tough to evidence everything that could be admissible in a hearing."
Concerns of racism at Euro 2012 were fueled last month by a British television program, entitled "Stadiums of Hate," showing discrimination and violent incidents at recent club matches in Poland and Ukraine. It was broadcast in Poland this week.
Racism marred the Netherlands' preparations for its opening match Saturday against Denmark after several spectators made monkey noises at players during a squad practice in Krakow, Poland, which was attended by 25,000 people.
UEFA President Michel Platini has said that his organization has given referees the power to stop and abandon matches if crowds racially abused players.
After Italy forward Mario Balotelli threatened to leave the field if abused, Platini warned players they would get yellow cards for acting alone to protest.
Gebre Selassie said this week that he would not walk off the field.
I'm not ready to give up," said the 25-year-old player, whose father is Ethiopian. "I definitely won't leave. I'll stay until they throw stones at me."