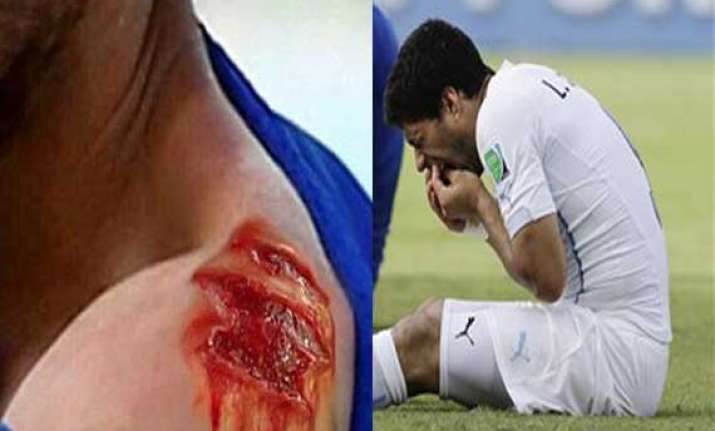 New Delhi: We all expected it and It didn't take long for Luis Suarez's bite on Giorgio Chiellini to viral. People have posted morphed images (used here) of Suarez and Chiellini on their Twitter and other social media accounts.
Within moments of the Uruguay striker appearing to sink his teeth into Chiellini's shoulder fans were scanning the net for photos and video clips of the incident.
Creative and uick-thinking internet wizzes did not waste much time in displaying their talents to create viral jokes soon after.
Suarez picked up another award after a great season, according to some on Twitter
Chiellini's morphed bite mark display is enhanced
 Pranksters gave Suarez a muzzle
The devil in the detail: Can you spot what's been changed on Suarez's Panini sticker? Check his teeth...
Please donate generously to help Chiellini recover his body part.
Biter: @SBNation cast Suarez as blood-sucking vampire Dracula after he appeared to aim a bite at Chiellini
The Suarez bottle opener would probably be a best-seller if it was real
Suarez's previous misdemeanors had not gone unnoticed by football fans online
Suarez has been likened to Jaws before and again he is proving it's not safe to be around him