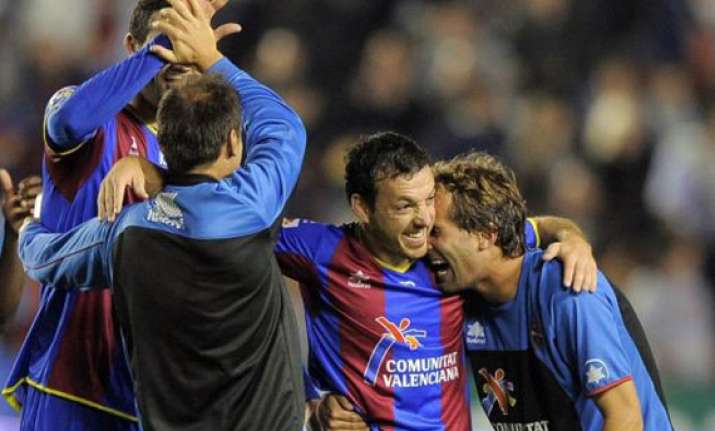 Madrid, Oct 27: Ruben Suarez scored a 35-meter (yard) stoppage time goal to give Levante a 3-2 win over Real Sociedad and extend the team's surprising stay atop the league standings, while Real Madrid stayed second after routing Villarreal 3-0.

Suarez rifled home a long free kick in the fourth minute of added time to ensure a seventh straight victory for the early-season upstart, which stayed one point above Madrid and two ahead of three-time defending champion Barcelona.

"It was the best moment to really go for it, so I hit it with everything I had," Suarez said about the winning goal.

Karim Benzema, Kaka and Angel Di Maria scored first-half goals at the Santiago Bernabeu stadium as Madrid eased past a Villarreal team clearly struggling with confidence having earned just one victory in all competitions this season.

But while Madrid's easy win left Villarreal coach Juan Manuel Garrido under pressure, Levante was again the focus of attention as it continued its tremendous early season run. Levante went top of the league for the first time in its 102-year history through its 3-0 win over Villarreal on Sunday.

"It's only nine rounds but today we are the team to beat, we are first and people want to beat us," Suarez said.

The team started slowly on Wednesday, though, perhaps under the pressure of finding themselves at the top of the table, and allowed Sociedad to create several chances in the opening stages.

Levante goalkeeper Gustavo Munua was forced out to clear a long pass but he sent the ball straight onto the foot of Daniel Estrada, who volleyed into the right side of the empty net from the edge of the area just four minutes in.

It was the first goal Levante has conceded in four games, and Sociedad midfielder Alberto de la Bella hit the crossbar with a powerful left footer moments later.
While the hosts eventually settled, Sociedad nearly closed the half with another goal as Inigo Martinez headed off the crossbar in injury time.

"They had us up against the ropes," Levante coach Juan Ignacio Martinez said.

Levante drew even in the 56th when Nano Rivas' cross took a friendly deflection off a defender and looped over the head of diving goalkeeper Claudio Bravo.

Bolstered by the goal, Levante took control when Valdo Lopes charged forward on the break to meet Jose Barkero's 61st-minute cross at the far post and head it into the left corner.

Sociedad appeared set to take home a point after Martinez volleyed in a clearance from outside the area with just four minutes to play, but Suarez stepped up and struck a perfect free kick beyond Bravo on the final whistle.

"It wasn't easy, but we knew how to resist and then we got a little bit of champion's luck," Suarez said.

Villarreal showed no signs of breaking out of its slump, as Madrid took the lead after just five minutes. Di Maria found Benzema with a through ball, and the France striker chested the ball into the area before tapping it over the onrushing Diego Lopez.

Di Maria was the provider again in the 11th as the Argentina forward scooped a short pass onto the foot of Kaka and the Brazilian curled a shot beyond Lopez and inside the near post.

Di Maria then scored himself on the half hour mark after Benzema unleashed him into the area with a perfect through ball. The Argentine coolly picked his spot inside the far post and curled a low shot that brought coach Jose Mourinho charging out of the dugout in celebration.

Villarreal finally managed its first shot after that as Giuseppe Rossi forced Iker Casillas into a save, but the visitors never found their rhythm.

Madrid continued to pressure, but Cristiano Ronaldo and Alvaro Arbeloa both wasted opportunities to increase the lead in the second half. Villarreal striker Marco Ruben also had a goal disallowed because of offside.

Madrid has won seven straight games in all competition, outscoring opponents 28-3. Villarreal, meanwhile, dipped to 18th.

Also Wednesday, Jordi Alba's 82nd-minute winner gave Valencia a 1-0 victory at Zaragoza to lift it one point above Sevilla into fourth place.

Pedro Botelho and Raul Tamudo scored either side of the break as Rayo Vallecano beat 10-man Malaga 2-0. Malaga, which has lost three straight, played with 10 men from the 38th after Eliseu Pereira was sent off with a straight red card for hitting Lass Bangoura.

Dani Guiza scored both goals as Getafe twice rallied to draw 2-2 against Osasuna, while Sporting Gijon climbed out of last with a 2-1 win at Mallorca.