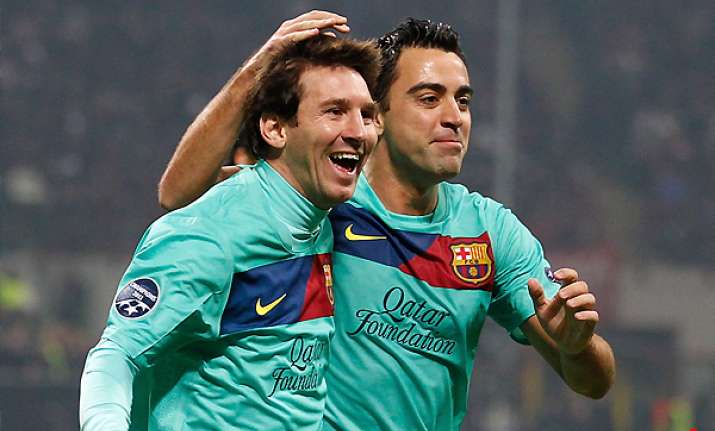 Milan, Nov 24: Barcelona clinched top spot in Group H by beating AC Milan 3-2 on Wednesday despite twice losing the lead in a pulsating Champions League match and allowing Zlatan Ibrahimovic to score against his former club.

Xavi Hernandez ran onto Lionel Messi's perfect pass into the area to slot in the winning goal in the 63rd minute, sealing the group win with one game remaining.

Both teams had already qualified for the knockout stages, which may have contributed to their willingness to attack throughout in a game that easily could have had an even bigger scoreline.

"Barca showed today how strong it is," Barcelona coach Pep Guardiola said. "Obviously if you come to San Siro, you're going to have problems. I had to choose between taking out an attacker or defender.

"If this game had been more decisive than I would have focused more on defense. We're happy with the win, with the game that we gave the fans because they're the most important."

Milan midfielder Mark van Bommel gave Barcelona the lead in the 14th minute with an own goal and, despite Ibrahimovic's leveler, Messi's twice-taken penalty ensured the defending champions went into the break in front.

Kevin-Prince Boateng pounced in the 54th to get Milan back into the game, but Messi slotted the ball through a throng of defenders for Xavi to seal the win.

"It's not easy to win at the San Siro," Guardiola added. "For me it's a real honor. It's one of those nights that you'll never forget.

"We're really happy with how we played. Milan is a great team with a great history. It really means something to win here. They're happy with the way they played, we're happy with the game. So we're all happy."

Much of the pre-game talk had focused on Ibrahimovic, who faced his former club for the first time since his acrimonious departure in 2010 after falling out with Guardiola following his only season in Spain. While the Sweden striker did get a goal, it was still Barcelona who stole most of the spotlight with their usual relentless attacking play.

The Spanish club extended its unbeaten streak to 27 competitive matches since losing to Real Sociedad on April 30, one short of the team record set from September to January last season.

"We're not here to prove anything," Guardiola said. "We just want to win and play well. That's what we came here to do."

The Serie A champion held Barcelona to a 2-2 draw in the opening Champions League group game, back in September, but Milan coach Massimiliano Allegri said his players gave a better performance on home turf despite losing.

"Barcelona were better but we had a good game," Allegri said. "We created several chances and we come out of this game with our heads held high, we know from this game that we can compete well with great teams. ... I think we are on the right road. It's a good sign for the knockout stages."

Barcelona went ahead in the 14th minute when Messi crossed the ball to Seydou Keita, whose pass across goal was turned into his own net by the unfortunate Van Bommel.

Guardiola's men almost doubled their lead moments later but Ignazio Abate did well to snatch the ball off Messi following a swift one-two with Cesc Fabregas.

Robinho made a glaring mistake when he fired Boateng's cross over the bar from close range, but the Brazilian's blushes were spared to some extent moments later when Milan leveled. Clarence Seedorf threaded the ball through for Ibrahimovic to slot past Victor Valdes and into the bottom left corner from 10 yards out for his fourth goal in four Champions League games this season.

Ibrahimovic scored 16 goals in the Spanish league but often struggled to fit into Barcelona's intricate passing schemes.

Barcelona almost immediately restored its lead in the 23rd minute as Messi set up Fabregas but the former Arsenal playmaker crashed his effort off the crossbar from close range.

But the Spanish club was back in front shortly after the half hour mark when Xavi went down lightly under Alberto Aquilani's challenge in the area. Messi sent Cristian Abbiati the wrong way with a soft penalty straight down the middle, but the Argentine was ordered to retake his spot kick after pausing just before striking the ball.

Messi's second penalty was much more emphatic, straight into bottom right corner, giving Abbiati no chance even though he dived the right way.

It was almost worse for Milan seconds later as David Villa raced onto Messi's pass but lofted his shot just the wrong side of the crossbar.

Barcelona had further chances to extend its lead at the start of the second half as both Messi and Villa saw shots go just the wrong side of the left upright.

It was left to rue those missed opportunities in the 54th when the ball fell to Boateng in the area, who downed it with one touch before rounding his marker with a neat backheel flick and slotting the ball past Valdes and into the bottom right corner.

But Milan's joy was short-lived as Xavi struck just nine minutes later.