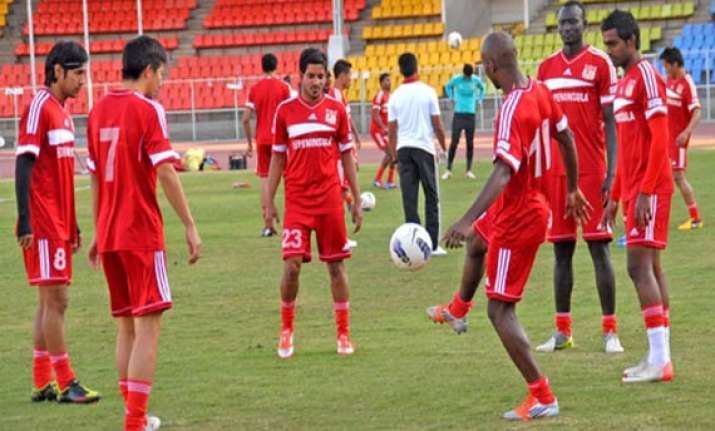 Pune: Pune FC will be keen to log their first-ever win on the continental stage when they host Singapore's Tampines Rovers in a must-win Group-H, Round-4 encounter of the Asian Football Confederation (AFC) Cup at the Shree Shiv Chhatrapati Sports Complex here Tuesday.
Despite taking the lead in the first half, Pune FC went down 1-3 to the same opponents in the previous round and thus will seek revenge at this turn-over stage of the competition.
For Pune FC (2 pts), who are at the bottom of Group-H behind Kitchee (7 pts), Nay Pyi Taw (4 pts) and Tampines Rovers (3 pts), a win will boost their hopes of qualification to the next round.
Moreover, with seven games at home, away and overseas slated in the next four weeks, a win will be vital for Pune FC's morale as they go into the hectic schedule.
Speaking at the pre-match press conference Monday, Pune FC coach Mike Snoei said: "It's our last chance to stay in contention and we will go for a good win. Tampines is not an easy opponent but we definitely want revenge for our loss against them in the last game."
Snoei also mentioned that both I-League and the AFC Cup are equally important for Pune FC.
"Last year we (Pune FC) fought very hard to qualify for the AFC Cup. I want to too see our team's ability on the Asian level. But again, I-League is also an important competition for us."
Coached by the former Singapore-international Salim Moin, Tampines ply their trade in the S-League and presently occupy first place in the standings.
Currently making their fourth consecutive and seventh overall appearance in the AFC Cup, Tampines' best ever finish was reaching the quarter-finals in 2005, 2006 and 2007.
Speaking about hosts Pune FC, Tampines Rovers Coach Salim Moin said: "It is great to be here in Pune. The home side, Pune FC, have provided us with great facilities."
"I respect the opponents despite our win in the previous round. However, this is a different ball game, so we want to approach it carefully," he added.