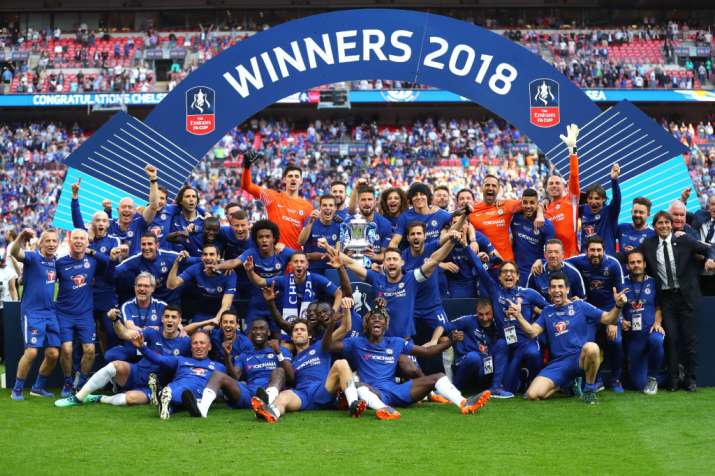 Chelsea's players saved their season but maybe not their manager. Collecting the FA Cup, after beating Manchester United 1-0 on Saturday, is looking like Antonio Conte's final act with Chelsea. Eden Hazard was brought down in the first half of the match by defender Phil Jones at the Wembley stadium which saw the Belgian score easily. After that, Conte did a Mourinho by 'parking the bus'.
"After two years, the club knows me very well," Conte said. "And if they continue to want to work with me they know I can't change. My way is always the same."
Having won three Serie A titles at Juventus before capturing the English Premier League trophy for Chelsea, Conte reminded the Chelsea hierarchy: "I'm a serial winner."
It was a bullish sign-off to a lackluster season that saw the Italian's relationship with Chelsea's leadership become increasingly strained as the team went from champions to fifth in the Premier League.
"Our job is not simple," Conte said. "I understand that the club can make a decision."
Wembley match-winner Eden Hazard also has a decision to make: Whether to pursue a transfer.
After raising doubts about his Chelsea future ahead of the final — demanding "good players" are signed in the off season — Hazard produced the only goal from the penalty spot in the 22nd minute.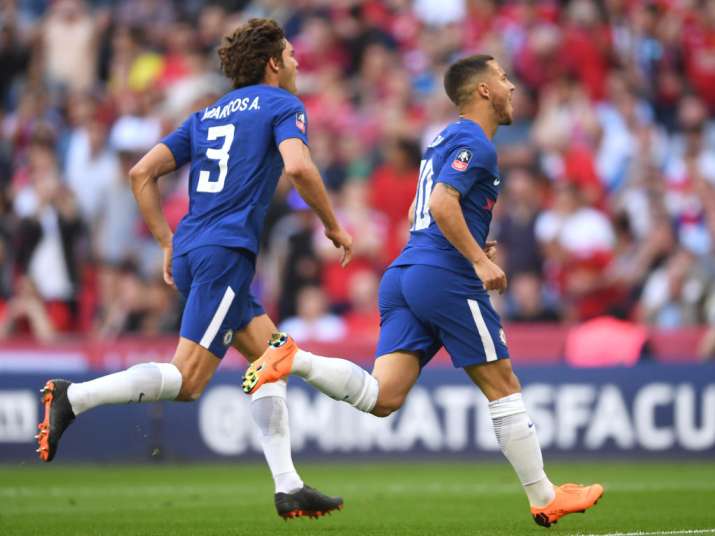 On the pitch, amid the celebrations, Hazard said nothing to demonstrate his commitment to the club.
"I'm just happy," Hazard said. "You see the fans celebrating with the trophy. We didn't play a great season but at least we finished well."
Although not in the style craved by Hazard.
"If we want to win a lot of games we have to play better," Hazard said, "because today we played defensively."
Such was the focus on the gloomy Premier League campaign and looming offseason of uncertainty in the post-match interviews, it was easy to forget Chelsea had just picked up a trophy.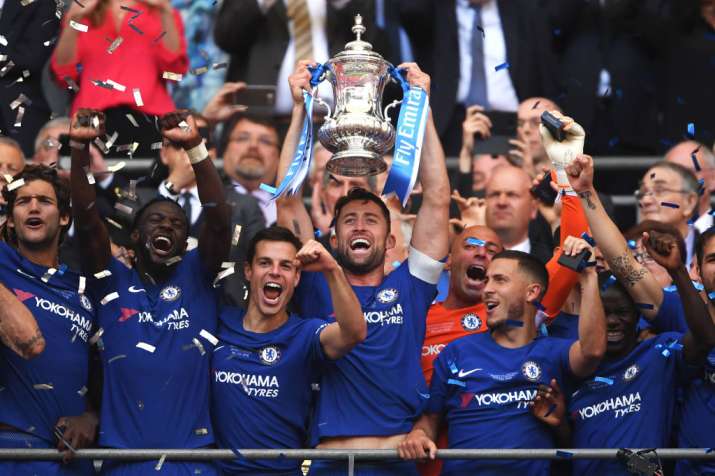 "This was to save our season," Chelsea captain Gary Cahill said. "I'm not saying we've had a magnificent season by any stretch. But we are used to winning, not in an arrogant way, but we have to try to win things."
Conte's first cup final victory in coaching meant former Chelsea manager Jose Mourinho finished his second season at United empty-handed, paying the price for an insipid first-half display and coming to life only after the break.
United took until the 56th minute to register a shot on target when Marcus Rashford struck at goalkeeper Thibaut Courtois, who later rushed off his line to block the forward.
United's deficiencies were encapsulated by another patchy performance from midfielder Paul Pogba, who squandered a late chance to equalize by heading wide.
Mourinho, though, couldn't find any faults and did what he normally does best.
"I don't think (Chelsea) deserved to win," said Mourinho, who won the League Cup and Europa League last year. "I am quite curious because if my team played like Chelsea did I can imagine what everyone would be saying."
MAN UNITED: WHAT NEXT?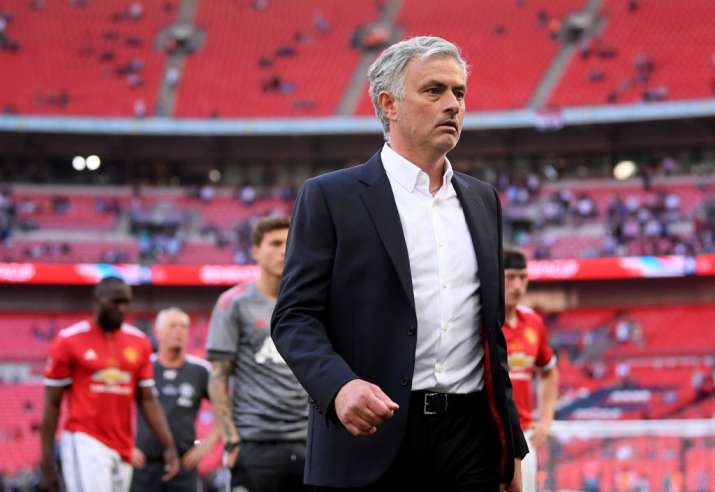 This was only Mourinho's third loss in 15 career cup finals and the first defeat in regulation time.
Despite Mourinho being able to spend around 300 million pounds ($404 million) on players, the only progress he can point to is finishing second in the league for the club's highest finish since Alex Ferguson retired as a champion in 2013.
More investment is required in the offseason, particularly to acquire fullbacks. Wingers Ashley Young and Antonio Valencia have been deployed there.
CHELSEA: WHAT NEXT?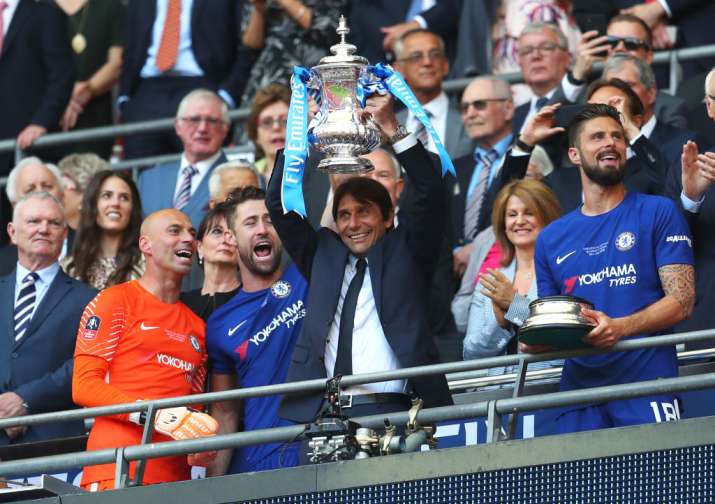 The rapid turnover of managers hasn't prevented Chelsea from collecting trophies. It's now 15 in 15 years under Roman Abramovich's ownership.
The Russian billionaire could well be searching for his 11th permanent manager if he decides to fire Conte with a year remaining on his contract.
Chelsea's priority is finding a new striker, particularly if Hazard leaves, despite lacking the appeal of appearing in the Champions League. Chelsea failed to adequately replace Diego Costa last year, scoring 62 goals in the league compared to 85 in the previous title-winning campaign.