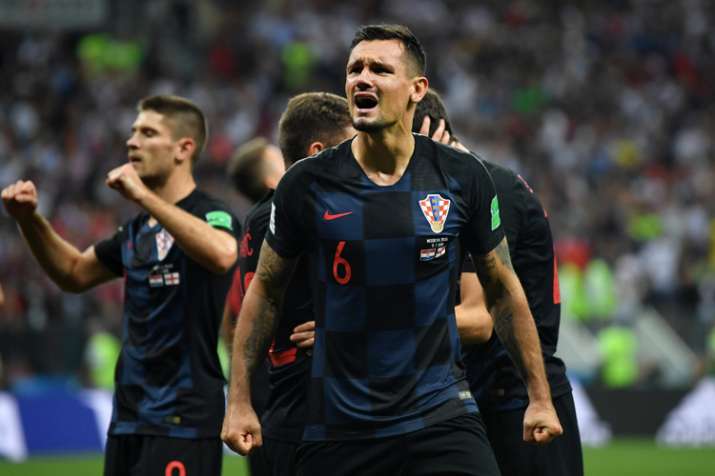 Croatia defender Dejan Lovren said people should show him more respect now that he's going to play in a World Cup final.
Lovren said "I deserve this" after Croatia's 2-1 extra-time win over England, and used an expletive to describe all he has been through.
The Liverpool player was annoyed in a news conference on the eve of the semifinal by English media asking about a 4-1 loss against Tottenham early last season.
England captain Harry Kane, who got two goals for Tottenham that day, did not score Wednesday in Moscow.
Lovren said he doesn't understand why reporters should look back and ask about his mistakes.
"People should respect us more," Lovren says. Croatia will be playing in the World Cup final for the first time when it plays France in Moscow on Sunday.
Meanwhile, Ivan Perisic recalled being a little boy wearing his red-and-white checkered shirt as he watched Croatia's previous World Cup semifinal against France in 1998. He said he watched on TV in Split when Croatia lost to the France, who went on to win the title.
"I rooted for Croatia wearing the Croatia jersey," he said. "I could only dream of playing for my country and of scoring one of the important goals in a final."
Perisic scored the equaliser and contributed to clinching goal as Croatia rallied to beat England 2-1 in extra time to reach the World Cup final for the first time.
To win the championship, they'll have to beat France on Sunday. He spent a couple of years in his childhood living in France but says that's "irrelevant" now.
"No one can be happier than me to play them in the final," Perisic said. "I spoke to my mother the other day. She said she dreamed that Croatia will play France in the World Cup final. Now her dream is becoming reality - we will see what happens."