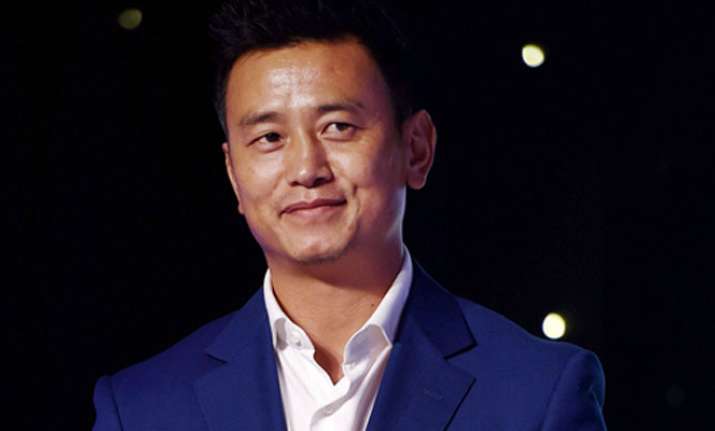 Former India football skipper Bhaichung Bhutia reckons that it will be tough for India in the 2019 AFC Asia Cup, but not impossible for them to advance from Group A into the next stage of the competition. India are placed in Group A along with Bahrain, Thailand and hosts the United Arab Emirates in the tournament slated to be held from January.
"We are still happy and lucky with the group that we have got because we have been able to reach in that ranking bracket to get that group. So, credit to the team that has gone on to reach that ranking to get that group," Bhutia told reporters here today.
"We are lucky not to have got any super-powers of Asian football (in the group) that have gone to qualify for the World Cup like Korea, Iran, Iraq, Japan," said the 41-year-old Bhutia, who spoke after Sony Pictures Networks India launched their campaign 'Meri Doosri Country' for the upcoming FIFA World Cup in Russia.
Although it was still a difficult task, Bhutia felt it looked easier than when he was part of the squad that took part in the 2011 edition of the continental cup and were knocked out early.
"It's not going to be easy in Asia Cup, as every team is going to be tough. But still, we are far lucky than what we got in 2011. Compared to the last Asia Cup (appearance), we are happy and lucky. It's going to be tough, but with a bit of luck and hard work we can qualify," he remarked.
Bhutia also believes that the team should now play matches outside the country as there is a difference between playing within the country and outside.
The All India Football Federation is hosting the Intercontinental Cup here from June 1 where India will take on sides like New Zealand, Chinese Taipei and Kenya.
Asked about the tournament, Bhutia said, "It is a good standard tournament and you have got teams like New Zealand and Kenya coming in, but Sunil (Chettri) rightly said now you need to play a lot of matches outside India because playing in India and outside is a different experience mentally. That psychological difference that makes playing at home and away is very different." 
Bhutia said it made sense to play in Dubai ahead of the Asia Cup.
"They need to start playing teams outside India and specifically if they can play in Dubai as there are lots of clubs (there). Because the matches are going to happen in UAE, they can start training there and play a few matches so that psychologically you are aware and know the ground, climate and everything. That plays a major role, he noted.
According to Bhutia, it was important to monitor the workload of Chettri and keep him fit and ready for the Asia Cup.
"We will have to make sure that he stays out from injury and get him in his best form during that time and that will make a big difference. The good thing about Sunil is that he has got the experience of Asia Cup, that's what he will have to share with players. Asia Cup is the biggest tournament for any player in India, it can't get bigger than that," Bhutia added.
The former footballer also said that it was time that coach Stephen Constantine gets the core group of players under his command as early as possible.
"Now he should start working with his core set of team members and, obviously, as a coach he would know his most important players and around that he can always experiment. He must be having his team ready in his mind and he will have to start playing with that kind of team regularly. That is an important factor," Bhutia said.
Bhutia signed off saying, "Aim of the team should be to get to the second round and then take it from there.
(With PTI Inputs)