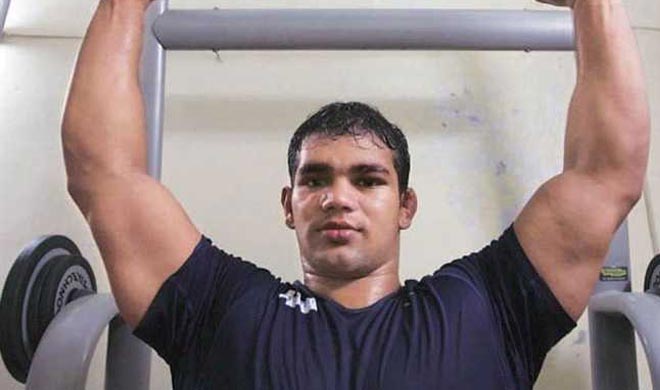 New Delhi: Indian wrestler Narsingh Yadav, who failed the crucial dope test ahead of the Rio Olympics, today found support in the Wrestling Federation of India (WFI) which vowed by his innocence, saying that it is a conspiracy to sabotage his Olympics bid.
Addressing a press conference in the capital, WFI president B.B.Sharan alleged that some one had spiked his food before the test as Narsingh Yadav and his room partner Sandeep Tulsi Yadav have both tested positive for the same banned steroid.
Sharan also said that even Narsingh has complained that something was mixed in his food when it was being cooked adding that SAI DG Injeti Srinivas had warned the wrestler from training at Haryana's Sonepat Centre.
The WFI president also raised his suspicon over a woman who was incharge of SAI Sonepat centre and two NADA officials whom he said could be involved in the conspiracy.
Sharin also made it clear that the Federation will not send any other contestant to Rio even if Yadav is not allowed to participate in Olympics.
Asked who was the in charge of the camp, Sharan said that SAI (Sports Authority of India) is in charge of the camps and not the wrestling federation. He also said that
Sharan said that the federation feels that injustice has been done with Narsingh Yadav and expressed hope that committee does justice.
"We have sought a chance from FILA (international body), we want Narsingh to get justice," he added.
The fact that Narisngh's teammate at the camp has also tested positive for the same substance, it does point to a possibility of foul play. Both the wrestlers were consuming the same supplements as they were roommates. It arises suspicion," WFI assistant secretary Vinod Tomar said.
 "There was a high quantity of steroid in the sample, which is hard to believe. It seems like a deliberate thing. Why would anyone take such high dose," he questioned.
Asked if anyone else in the camp has also failed the dope test, the official replied in negative.
"No. Only these two guys have failed it and this clearly indicates that something is wrong."
With his Olympic dreams in jeopardy after a failed dope test, Narsingh had claimed innocence, saying that the entire episode was a conspiracy against him.
"This is a conspiracy against me. I have never taken any banned substance," said Narsingh.
Narsingh, who was picked ahead of the double Olympic medallist Sushil Kumar to represent India at the Rio Games in 74kg Freestyle category, has been handed provisional suspension and virtually ruled out of next month's Olympics.
Yadav's Olympics accreditation has also been withheld.
The 26-year-old was embroiled in an ugly legal battle with two-time Olympic medallist Sushil Kumar. Despite Yadav sealing India's quota at the Rio Olympics in the 74kg category by winning bronze in the 2015 World Championships. Kumar demanded a selection trail, which was rejected by the Wrestling Federation of India (WFI) as well as the Delhi High Court.