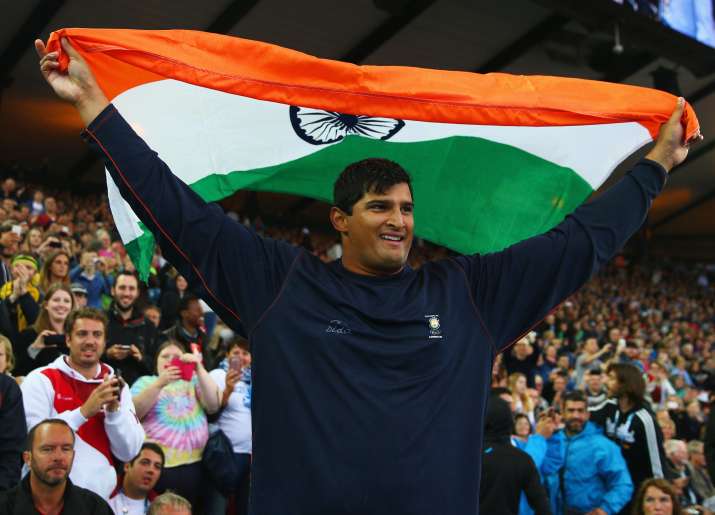 Top discus thrower Vikas Gowda on Wednesday retired after competing at the highest level for more than 15 years, during which he became the first and only Indian male to win Commonwealth Games medals in the discipline.
The retirement of the four-time Olympian, who will turn 35 on July 5, has not come as a surprise as he has not taken part in any major international event since winning a bronze in the Asian Championships last year in Bhubaneswar.
His retirement was announced by the Athletics Federation of India on its twitter page after Gowda sent the AFI a letter, declaring his intent to call it quits.
.@vikgo70 Vikas Gowda, #India's greatest discuss thrower, Olympian, CWG2014 gold medallist retires from Athletics. Thanks, Vikas for serving Indian athletics & taking it to great heights. All the best Champ! @g_rajaraman @PTI_News @kaypeem @IndiaSports @Ra_THORe @Media_SAI pic.twitter.com/UwbJSU2n4t

— Athletics Federation of India (@afiindia) May 30, 2018
The Mysore-born Gowda's family moved to Maryland, USA just before he turned six. His father Shive was a former athlete and a national coach at the 1988 Olympics.
Gowda, who holds the national record of 66.28m (achieved in 2012), is one of the most decorated Indian athletes, having won a gold in the 2013 and 2015 Asian Championships. He also won silver in the 2010 Commonwealth Games and a gold in the 2014 Glasgow CWG. In the Asian Games, he won a bronze in 2010 and a silver in 2014.
He took part in the 2004, 2008, 2012 and 2016 Olympics. Of the three, he was able to reach the final round only in the 2012 London Games.
His retirement came just a few months before the Asian Games in Indonesia but he has been on the wane for some time. He did not take part in the recent Commonwealth Games as the AFI had made a strict rule that those who do not take part in the national championships, which serve as selection trials, will not be allowed to participate in the multi-sporting events.
Even for the Asian Championships last year, he was told to come to Bhubaneswar all the way from the US prior to the event, to take part in the selection trial.
(With PTI Inputs)