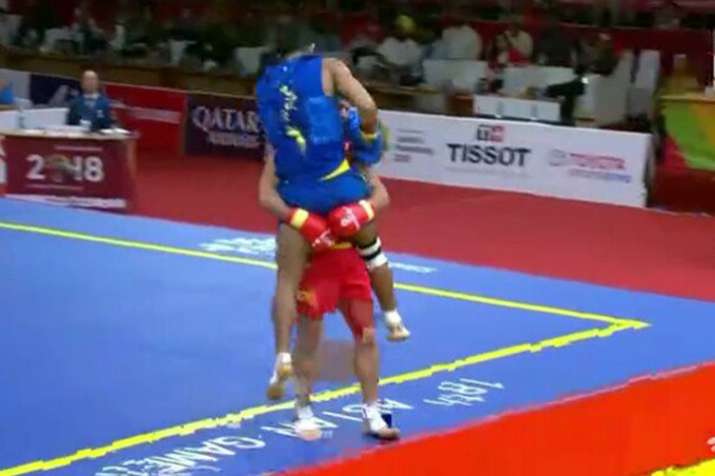 On a historic day for Indian sports history, four of the country's athletes today won an unprecedented four bronze medals in Wushu - a Chinese martial arts sport - even after they lost their respective semifinal matches in the Sanda category of the ongoing 18th edition of Asian Games. In men's 60 kg Sanda category, Surya Bhanu Pratap was beaten by Iranian Erfan Ahangarian 2-0 in the last-four encounter
What has made these losses even more special is the fact that Bhanu Pratap suffered an injury to his foot during the semi-final but still continued with his punches. In a rare show of sportsmanship, his opponent after winning the match lifted and carried a struggling Bhanu outside the ring into the Indian camp where his coach and the support staff was waiting for him.
What an amazing scene: Surya Pratap got injured in his Wushu Semis bout (which he lost). Once the bout got over his Iranian opponent Erfan Ahangarian carried him back to the Indian bench #AsianGames2018 pic.twitter.com/1ie1MjU6uz

— India_AllSports (@India_AllSports) August 22, 2018
Di cabor wushu nomor Sanda 60 kg, Surya Bhanu Partap Singh 🇮🇳 mengalami cedera saat dikalahkan Erfan Ahangarian 🇮🇷. Erfan lalu menggendong Surya ke luar arena. Memenangkan pertandingan sekaligus memenangkan nilai sportivitas. 👏👏👏 #AsianGames2018 pic.twitter.com/JJzRUZ5rAP

— Gie Wahyudi (@giewahyudi) August 22, 2018
Erfan through this gesture has won many hearts as he showed respect and dignity towards his opponent even after beating him comprehensively.
ये हैं इरान के इरफान अहेंगेरियन...जिन्होंने वुशु में भारत के भानु प्रताप को हराने के बावजूद भी सभी हिंदुस्तानियों का दिल जीता है। इरफान ने चोटिल भानु को हराने के बाद खुद उन्हें गोद में उठाकर रिंग से उतारा। तुम्हारे इस जज्बे को सलाम इरफान। ईद मुबारक #Wushu #AsianGames2018 #iran pic.twitter.com/5olEnFKQR4

— Sachin Kumar (@SachinKrIndia) August 22, 2018
#SuryaBhanuPratapSingh was struggling from the start of the match but he fought it, he kicked as hard as he could but in the end he could not walk so opponent #Iranian #ErfanAhangarian helped and lifted him to get down "Brotherhood" @narendramodi #AsianGames2018 @Ra_THORe @Iran pic.twitter.com/xHh9ROtic1

— रूपेश राज 🇮🇳 રૂપેશ રાજ 🇮🇳 RuPay-Sh Raj (@ChabaRupesh) August 22, 2018
Indian player Surya Pratap Bhanu got injured and fought the entire bout limping in pain and agony. The Iranian Erfan Ahangarian who defeated him , lifts him up as a sign of respect for his effort 💜 #AsianGame2018 #India pic.twitter.com/DEn7ZxdyZU

— Shephin Mathew (@trequartista_12) August 22, 2018
The other 3 bronze medals were won by Santosh Kumar in the 56kg category, Narendra Grewal in the 65kg and Roshibina Devi in the women's 60kg Sanda categories.