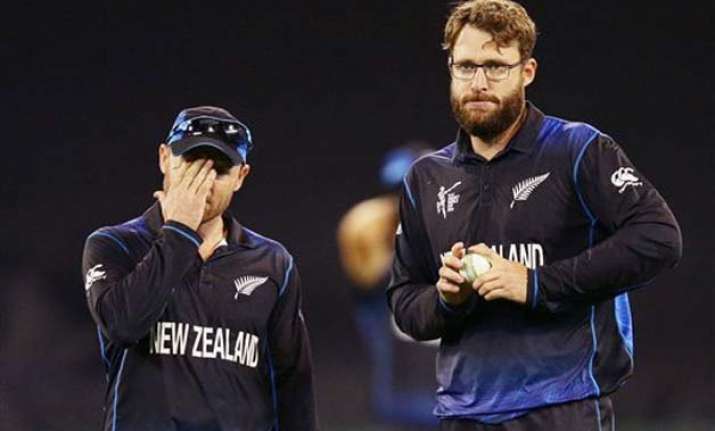 Melbourne, Australia: With a seven-wicket loss to Australia in the World Cup final, New Zealand allrounder Daniel Vettori likely called time on an international career which has occupied half his lifetime.
In ending after 18 years a career that began when he was 18, Vettori gave symmetry to a body of work which contained 113 tests and 295 one-day internationals — both New Zealand records.
In his final match he scored nine runs and took 0-25 from five overs on Sunday which did little to nourish his record of 2,244 runs and 305 wickets in ODIs. But his 13 wickets and his remarkable economy rate throughout the tournament was instrumental in New Zealand qualifying for the World Cup final for the first time.
New Zealand captain Brendon McCullum wouldn't discuss pending retirements at the end of Sunday's match, including a nascent rumor of his own. Vettori has previously indicated that the final will be his last for New Zealand in all three formats and there are other New Zealand players who might see the World Cup as an appropriate conclusion to their ODI careers.
McCullum was asked whether he might follow Australia captain Michael Clarke and quit the limited-overs format to concentrate more fully on test matches but he said the time wasn't yet ripe to discuss that issue.
"There maybe guys within our group who will retire," he said. "We'll let the dust settle on this one and we certainly won't try to grab any headlines over the next couple of days because they belong to Australia.
"We'll be gracious in defeat and then we'll work on a plan over the next couple of days for some guys who may look to retire. I think it's the right thing to allow Australia to bask in the glory of their success."
Vettori might, therefore, wait a day or two before confirming his retirement and reflecting on a career of rare longevity. He was a baby-faced youth of 18 when he first broke into the New Zealand team, making his test debut against England at Wellington in 1997. Later the same year, he made his one-day international debut against Sri Lanka in Christchurch.
In those days he was an orthodox left-arm spinner who gave the ball a sizeable tweak. But as time went on, as the heavy workload that fell to him in test matches in a New Zealand team that often lacked stock bowlers and as injuries affected his career, he refined and adapted his game.
He spun the ball less but he learned to more than compensate for that with substantial variations of line, pace and flight. He was, at the height of his career, the best bowler of his type in the world and it was a measure of his quality that after 18 years, at his final tournament, he made himself no less valuable to his team.
McCullum was adamant that even in the event of retirements, the progress that New Zealand has made at this world tournament and over a more protracted period would allow it to go forward with confidence.
"I think the team perhaps will change over the next (little) while but hopefully the style of cricket and the things that we've been able to implement and the brand that we're trying to play will remain and develop over the next sort of while," he said.
"Hopefully that will then filter down to some of our domestic cricket, as well, and we'll see some youngsters start to play the game and try and play it the same way that we've tried to operate through this World Cup. I guess once you're in the final, you've got yourself an opportunity of winning. If we can keep making finals, then we'll win one at some point."