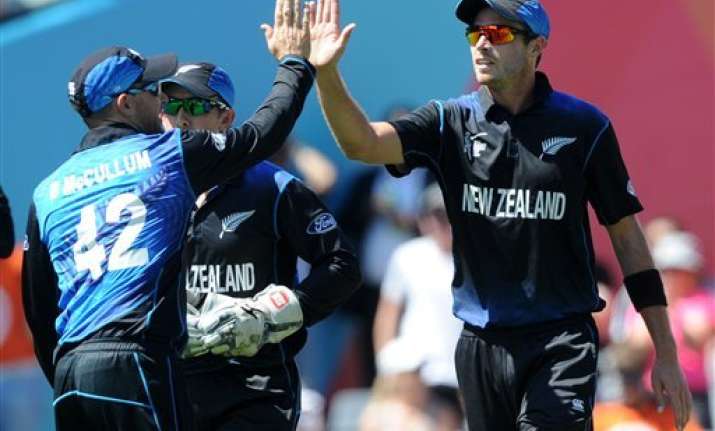 Napier, New Zealand: New Zealand's Cricket World Cup match against Afghanistan was shaping as one of its least demanding in Pool A, until selection dilemmas came into play.
Afghanistan is unlikely to disturb New Zealand's unbeaten progress through the tournament — the World Cup co-hosts top the group with four wins — but there are issues around the match which may have to be carefully negotiated.
New Zealand has used the same 11 for every match so far, leaving the four additional members of its squad without match practice.
In a meticulously planned campaign it is likely coach Mike Hesson and captain Brendon McCullum already know the lineup for Sunday, but it hasn't yet been revealed publicly, and there will be interest in seeing whether New Zealand gives fresh players a start.
McCullum indicated earlier that the four squad members who haven't yet played — his brother Nathan, veteran seamer Kyle Mills, Mitchell McClenaghan and batsman Tom Latham — will play during the pool stages. With matches remaining against Afghanistan and Bangladesh, that rotation now seems possible.
Mills and Latham are widely expected to play against Afghanistan, Latham in place of all-rounder Corey Anderson and Mills for the young speedster Adam Milne. But the selection issues are delicate.
Most importantly, it has been eight days since New Zealand beat Australia by one wicket at Eden Park and it will be another seven days, after Sunday's match at McLean Park, before it plays its last pool match against Bangladesh at Hamilton.
That means that any frontline players stood down at Napier will go two weeks without cricket before they have the chance to return against Bangladesh. At the same time, coach Hesson is aware of giving the members of his squad who haven't yet played a chance to do so, should they be needed later in the tournament.
Hesson will also be conscious that batsmen such as Ross Taylor, Grant Elliott and Luke Ronchi have spent very little time at the crease — Brendon McCullum and Kane Williamson have scored more than half of New Zealand's runs — and they have to be given the chance to bat whenever possible.
Fast bowler Tim Southee told reporters that the four squad members who haven't yet played were still a vital contribution to the campaign.
"They are training the house down, bowling exceptionally well in the nets and offering lots," he said. "Yeah, their heads are up and doing what's best for the team."
Veteran spinner Daniel Vettori wouldn't speculate Friday on selection, but said he was sure Hesson and McCullum would have a decent plan.
"The fact is most of the guys won't have played for a week anyway so everyone's in that situation where they're ready for some game time," he said. "Whichever way Mike and Brendon go, the whole (squad) is ready for it."
Vettori said Afghanistan, which beat Scotland for its first ever victory in the World Cup, had been "quite impressive."
"They have a balanced line-up and ... a really good team," he said. "Frontline bowling will be difficult and they have some very good batters, so I think there is a bit of desperation (for the New Zealanders) to get out there and play again.
"It's been a long time between games and it's something that we are not used to. We play every couple of days so once a week is a little bit of a challenge."