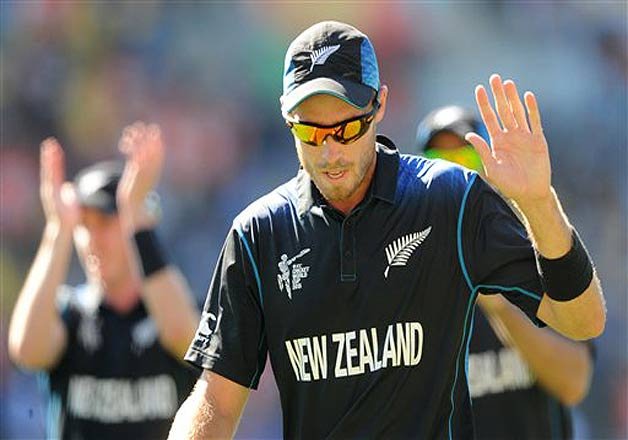 Auckland: Star pacer Tim Southee on Thursday sent a scare through the New Zealand camp two days before their cricket World Cup showdown against Australia by hurting his right shoulder during training.
Southee, who destroyed England last week with a career-best 7 for 33, was struck by a ball during fielding practice at the Eden Park and immediately returned to the dressing room, reports cricket.com.au.
He was a noticeable absentee from the start of the nets session that followed as ice was applied to his shoulder. A spokesman for New Zealand Cricket (NZC) said the paceman felt soreness and was deciding whether he would skip the training session. But spokesperson indicated Southee had claimed he was in no danger of missing Saturday's game.
At the outset, it looked to be an innocuous blow that sent the pacer to the turf clutching his bowling shoulder. Southee had been stationed alongside fellow fast bowler Adam Milne just inside the perimeter fence where the pair was taking it in turns to catch high balls hit by one of the NZ coaching staff near the centre wicket.
It was as Milne was retrieving one of the white balls from inside the fence that he lobbed it to Southee who was standing about 10m away with his back turned, and the ball appeared to land on the point of his shoulder.
The seriousness of the incident was undermined by the sight of several of Southee's teammates laughing as the right-armer got to his feet and began ruefully turning his arm over as if to gauge the extent of the damage.
But when he did not appear to bowl alongside his team-mates in the nets, it became clear the matter was a little more significant.