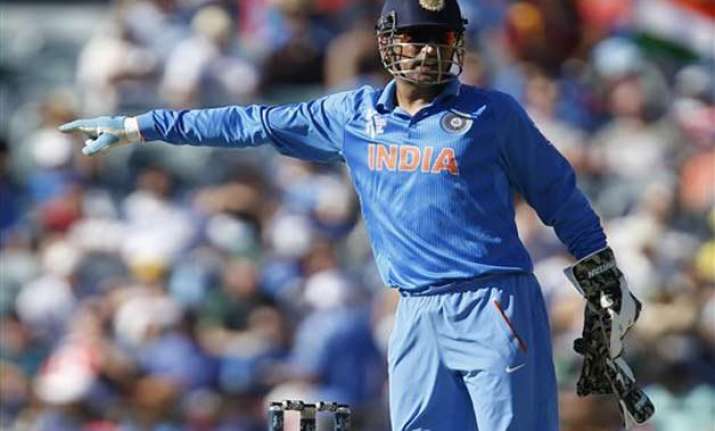 New Delhi: With four victories on the trot and following a four wicket win over the West Indies, sealed Mahendra Singh Dhoni led Team India's place in the quarterfinals on Saturday.
Former Australia captain Ian Chappell has credited MS Dhoni's confidence and leadership for India's superb showing in the ongoing World Cup. Dhoni leading from the front scored a 56 ball-45 against the Caribbean side after a sheer batting collapse in a small chase of 183 and took India home.
After a disastrous test-series and Tri-series down under, India has gone from being a team staggering towards a quarter-final exit to a side sprinting to the finish line with back-to-back World Cup victories beckoning.
As quoted in ESPN Cricinfo, "Dhoni has rejuvenated this Indian side. What amazes me is having seen him captain in the Test matches earlier in the Summers in Australia, he was very lacklustre. Suddenly you put him in the spotlight and the glare of the World Cup, he is like a different man in charge and it also seems like a different team," Chappell said.
If India wins the World Cup 2015, Dhoni will join Clive Lloyd and Ricky Ponting as the only World Cup captains to have achieved the feat two consecutive times. Chappell believes that this would be a great achievement because his success has come with less talented bowling attacks than the previous two captains.
It is because of Dhoni's positive leadership that India made a turnaround to an aggressive and consistent combination from a bunch of straggling individuals.
Chappell observed Dhoni as 'Captain Cool' and his boys have full faith in him. He is probably the finisher in Indian cricket having being taken the side numerous victories including the World Cup 2011 final against Sri Lanka.
Despite his poor run in WC 2011, he promoted himself up in the order ahead of in-form Yuvraj Singh and scored a 79-ball 91 which saw India lifting the coveted trophy after 28 years.
Talking about his sudden test retirement after third test against Australia in December last year, Chappell further said he seemed to get bored off the test cricket and some of his selections were without any logic.
Dhoni now enjoys his game more with the weight of Test captaincy having been lifted from his shoulders.
After the win against West Indies, Dhoni surpassed former skipper Sourav Ganguly as the most successful Indian captain in terms of ODI victories achieved on foreign shores.
It was Dhoni's 59th win while Ganguly had 58 victories under his belt.
Under his leadership, India won all the ICC major title including the 2007 World T20 in South Africa and the 2011 World Cup at home, besides the Champions Trophy in England in 2013.
He was also at the helm when India achieved the number one Test rankings.
India next play Ireland on March 10, Tuesday followed by Zimbabwe clash on Saturday, March 14.