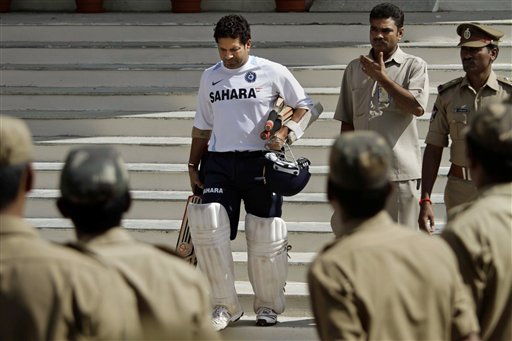 Dubai, Nov 11:  Iconic Indian batsman Sachin Tendulkar, who is set to become only the second player in the history of cricket to play six ODI World Cups, was today named the official ambassador of the event to be held in the sub-continent next year.
Tendulkar will be called upon to promote and support a variety of ICC initiatives for the tournament, which is the third biggest sporting event in the world and will take place in Bangladesh, India and Sri Lanka from February 19 to April 2 next year, the ICC said in a statement.
"There are just 100 days to go and I am really looking forward to playing in another Cricket World Cup," said Tendulkar, who will join Pakistan's Javed Miandad as the only other player to take part in six World Cups.
"In terms of limited-overs cricket, the ICC Cricket World Cup is the highest level you can play so it is always a thrill to take part in such an important and widely followed event.
"The fact that the 2011 event will be staged here in the sub-continent makes it even more special for me and I am keen to ensure we play well. As a team we would be doing everything we can to win the world cup on home soil," he added.
ICC Chief Executive Haroon Lorgat said the governing body was lucky to get the support of a player of Tendulkar's stature.
"We are very lucky to have such an extraordinary player as Sachin supporting our flagship event.
"I don't think any other player has inspired a nation like he has and the respect and affection he enjoys goes way beyond his native India. Many other athletes and sports fans around the globe admire what he consistently achieves and what he does for cricket," Lorgat said.
Throughout his two-decade long career, Tendulkar has inspired millions of cricket lovers around the world with his skill, temperament and love for the game.
Since making his debut for India in 1989 at the tender age of 16, he has scored more international runs than anyone else in history while also adhering faithfully to the spirit of cricket.  PTI