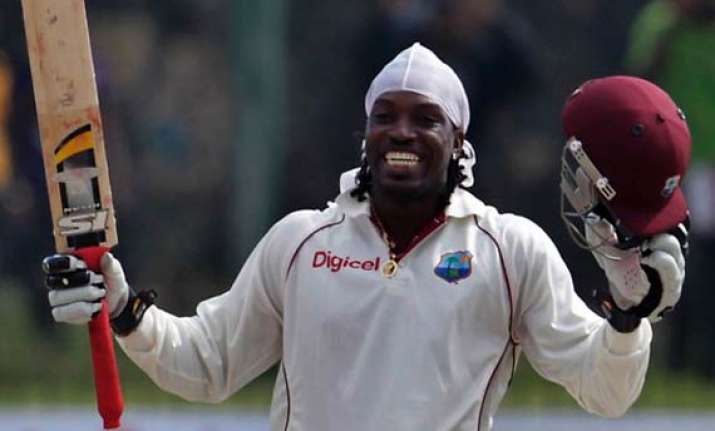 Kingston (Jamaica): Talismanic Chris Gayle will join an illustrious group of West Indies players when he pulls on the maroon cap for his 100th Test at the Sabina Park here Sunday, an occasion he has described as a "big milestone".
The 34-year-old, who made his debut 14-years-ago against Zimbabwe at the Queen's Park Oval, is now set to become the ninth West Indian to achieve the landmark, joining Shiv Chanderpaul, Courtney Walsh, Brian Lara, Sir Vivian Richards, Desmond Haynes, Gordon Greenidge, Clive Lloyd and Carl Hooper.
Gayle was a major doubt for the first Test against New Zealand just a couple of weeks ago but has successfully combatted a niggling back injury to be ready for the game in front of his home crowd.
"This is a huge milestone. It is very special and something I'm really looking forward to. It all started in Rollington Town. I used to play cricket on the street. Then I moved to Lucas Cricket Club and here I am today about to play my 100th Test for the West Indies," Gayle said.
"When I look back, I have come a long way. In my first match I was a bit nervous but then I had played a few one-days before so I settled down. I remember it very well. I even shed tears. To share a dressing room with Curtly Ambrose and Courtney Walsh and being at first slip with the two big men bowling and hitting edges and me taking a few catches was very good for me."
He added: "In my first innings I was feeling really good and looking for a big score. I got run out in a mix-up and I remember going back to the dressing room and cried like a baby. It was a special match and I will remember for all time.
"Now I reached my 100th match and it is special because it is at home. Sabina Park is my favourite ground. It has changed a bit over the years. It's very special to play here with my family, friends and supporters in the crowd. I always love playing at home.
"I'm looking forward to it. I want a huge performance. I'm sure the fans will be thrilled to see this occasion across the Caribbean and around the world. They have been very supportive throughout the years when I have had my ups and downs," said Gayle, who is also poised to enter the 7,000 run club.
Currently at 6933 runs with an average of 42.01, the southpaw requires just 67 runs to become the eighth Windies player to reach the landmark.
Of the many special innings he has had, none is more so than his career-best 333 against Sri Lanka at Galle in 2010 which he rates as his best. It was his second triple century following the 317 he made against South Africa at the Antigua Recreation Ground in 2005.
These two centuries also put him in illustrious company -- one of only four men to make two triples in Tests, the others being Brian Lara, Don Bradman and Virender Sehwag.
"That innings stands out and I put it at No.1," said Gayle.
Add to his Test record and Twenty20 status is a stellar one-day record of 8,743 runs. However, Gayle brushed aside the statistics and summed up his career simply.
"The most pleasing thing is that I have made a lot of people happy. I have brought happiness and have made an impact and I am happy about that. To make an impact on other people's lives is important to me. Once people are happy, I am happy," Gayle concluded.