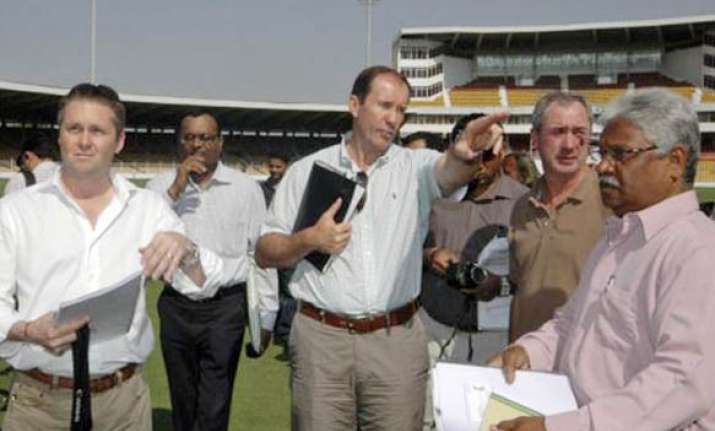 Melbourne, Feb 18: International cricketers' representative Tim May says security still remains a major worry for World Cup organisers, despite assurances from ICC chief Haroon Lorgat who had called it a "non-issue".
May, chief executive of the Federation of International Cricketers Associations, said security for players, officials and spectators is still a priority for FICA at the six-week tournament starting on Saturday in India, Sri Lanka and Bangladesh.  
"(This is) despite comments attributable to ICC CEO Haroon Lorgat that security at the World Cup was a 'non-issue' and 'not an issue for anyone'," May said in a statement released on Friday.  
"I have spoken recently to Haroon, so as to gain an understanding of the context of his comments, and remain confident that the ICC shares FICA's concerns regarding the importance of security measures at the World Cup.  
"The continued focus on the implementation of security plans is still a very serious and relevant issue and is far from 'a matter that is not an issue to anyone'," May was quoted as saying.  
The former Australia spinner said FICA's security consultant Eastern Star International had recently concluded a review of the security arrangements for the event and found the proposed arrangements to be sound.  
He said the ESI was confident that provided the plans were implemented in a professional manner the risk to the players will be minimised to a great extent.  
"The plans are only a part of the security solution, and now it is up to the ICC and World Cup security personnel to ensure that the plans are implemented as laid down," May said.  
"Provision of security in the World Cup is a massive challenge to the organisers of the event, with 14 teams moving around three countries.  
"It is a significant and complicated task to protect players, officials and spectators.  
"There is no place for complacency in the delivery of these plans and we trust that the importance of the issue of security remains the highest priority of the ICC, event hosts and security forces." PTI