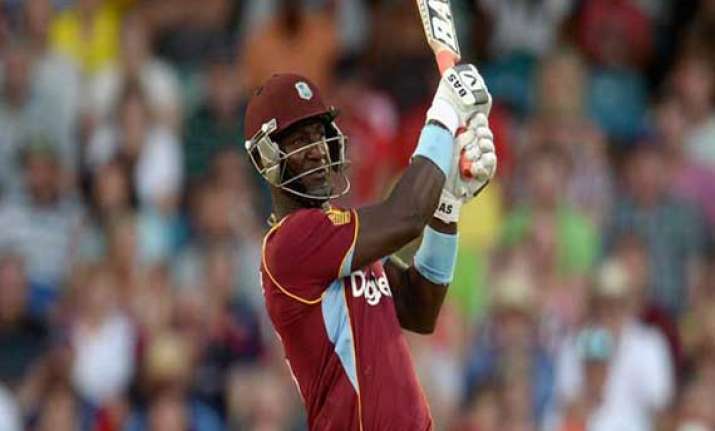 Mirpur, Bangladesh: West Indies captain Darren Sammy said Thursday his team will take a mental edge into its World Twenty20 match against Australia on Friday with memories of its semifinal win in the previous edition of the tournament still fresh in his team's mind.
"So far we have not played to full potential," Sammy said on the eve of the crucial group 2 game against Australia. "But we last played them at the World Twenty20 semifinal and everyone knows what happened. We scored some 200."
The West Indies registered a handsome 74-run win over Australia in Colombo on the way to winning the title in 2012.
Big-hitting opener
Chris Gayle
smashed a 41-ball 75, taking the team to massive 205-4. The West Indies then dismissed Australia for 131 with spinners
Sunil Narine
and Samuel Badree grabbing two wickets each.
Sammy said he was relying on the two spinners to deliver once again.
"It will be a good contest because Narine and Badree are two of the best spinners in the world at the moment in T20 cricket. Badree has been getting the wickets in the first six overs and we hope he will continue to do so," Sammy said.
The loser of Friday's match will be virtually out of contention for the semifinals after Australia previously lost to Pakistan and the West Indies was defeated by India.
Experienced Australian wicketkeeper-batsman Brad Haddin said his team was not worried about the do-or-die situation.
"Sometimes it can relieve the pressure because you know where you stand," Haddin said. "There is no second chance for us. We have got to make sure we bring our A game and deliver under pressure. We have done that well over the last four months and I see no reason why we can't continue with that."
Haddin said his team too had spinners who could do the job at a venue that has helped spinners.
"We are pretty well covered in the spin department. We have got James Muirhead that can bowl leggies (leg spin). We have got Brad Hogg that bowls left-arm Chinaman and we have got Maxie (Glenn Maxwell) also. We are pretty well equipped to cover all bases if needed. We will see what we come up with tomorrow if needed," Haddin said.
Haddin conceded that it was important to get rid of Gayle early.
"I think we have seen over T20 cricket for a long time that Chris Gayle is one of the most destructive batsmen along with Shane Watson in this form of the game. The earlier you get guys like that, the longer you go in terms of winning the game," he said.
In the other match on Friday, group leader India will play Bangladesh.