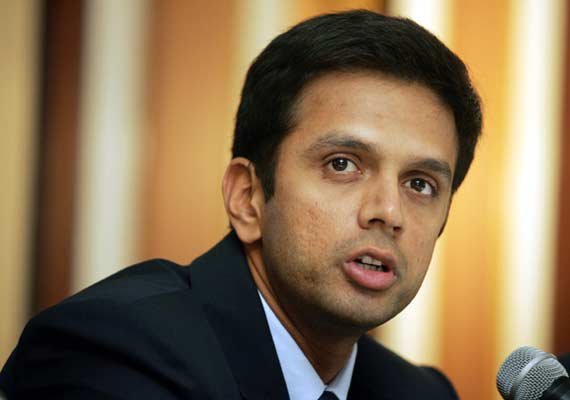 New Delhi: Batting on a different wicket as member of the Target Olympic Podium Scheme (TOP) initiated by the Ministry of Sports to increase India's medal tally, former captain Rahul Dravid said that Olympic sports can learn a lot from cricket and vice versa.
"Sport is sport and performance at elite level is performance at elite level. There is a lot that cricket can learn from performances of other athletes. There is lot of sharing of knowledge. There is lot that other sports can learn from cricket. It's not generally about specific lessons. I think specific lessons in specific sports are sometimes unique to each sport," said Dravid after attending a meeting at the Sports Authority of India (SAI) center, here on Tuesday.
Part of the eight-member team of elite sports-persons to identify and help prospective medal winners from across India for the 2016 and 2020 Olympics, Dravid expressed surprise at being part of the elite group including MC Mary Kom, Pullela Gopichand, Anju Bobby George and Abhinav Bindra but is optimistic about Indian sport moving in the right direction.
"I have been involved in an international sport for so long and I guess have an idea of what it takes for international athletes to be successful. I am not sure why I was invited on the committee but it's the kind of opinion that they want. I obviously am not going to comment on shooters or badminton players or athletes. For that we have Abhinav, Gopi and Anju with much more knowledge," said the only non-Olympic sportsman in the panel.
"There is no doubt that things are improving in Indian sport even outside of cricket. We are getting a lot more medals at the international level and at the Olympics. So this is a great initiative. It supports the top athletes and that's how it's done all over the world and an elite athlete needs lot of support to compete at that level against the best players of the world," added India's top batsman.
Running the show as chairman of the programme, BJP MP and Indian Olympic Association vice-president Anurag Thakur thanked the ministry for the putting the scheme under National Sports Development Fund (NSDF).
"I think it's a good idea. We had a very successful first meeting where we looked at the names. And also looked at the system, which needs to be adopted of how to train the trainers as well as implement the scheme successfully and also bring in a lot of transparency and accountability into the system, so that we can increase our medal tally in the coming time," said Thakur.
Thakur, who is also the president of the Himachal Pradesh Cricket Association, is keen to bridge the communication gap between the ministry and various federations for the best interest of sport in India.
"We are trying to rope in federations, government as well as the experts. To take their feedback and to work in a system which can be implemented successfully. To help them get the best of training and to make the facilities available to them, so that they can perform well at the international level. And there are always some gaps like coordination problems between the ministry and federations. We will try and work on that, so that in the coming time players are able to focus on their performances rather than any of the other irrelevant things," said a "confident" Thakur.
National badminton coach Gopichand is also happy with government's effort to uplift the condition of sport and performances of sportspersons in the country.
"I think more or less in the last few years, we have seen government spending a lot on athletes, SAI has spent a lot on training the elite athletes in the last few years and this is an extension to the programme in a way. So that athletes not only get funding but also get other things and quicker. So that all their problems are addressed and also the competition at the world level is bigger and sharper and so there was a need for such kind of a programme," said Gopichand.
"At times it's not just the money but other things as well. So basically identifying and telling them that you are the top players and we will do everything in our capacity to help you get the results," he added.